Australia is edging closer to obtaining a coronavirus vaccine - but will people actually get it?
Published on
Aug 20, 2020
BY NAVEEN RAZIK
Public health experts are urging Australians to get a coronavirus vaccine when one becomes available amid persistent concern some are not willing to be immunised.
Overnight, the federal government announced it had made arrangements to provide Australians 25 million free doses of a vaccine being developed at Oxford University if a promising trial proves successful.
Prime Minister Scott Morrison said it could be rolled out early next year.
"There is a significant demand we anticipate for the vaccine in Australia and we anticipate the uptakes are going to be good," deputy chief medical officer Nick Coatsworth said on Wednesday, adding that flu vaccination rates have skyrocketed during the pandemic.
However, there is still some immunisation hesitation among some Australians, with an Essential poll conducted earlier in August finding one in ten would not get a coronavirus vaccine.
Fifty-six per cent of respondents were willing to be vaccinated immediately, with another 35 per cent comfortable with receiving the shot at a later date. Eight per cent of those surveyed said they would never get vaccinated, with younger Australians more sceptical than their older counterparts.
Public health experts say a vaccine would go a long way towards eradicating COVID-19.
"If we don't have more than a significant percentage of the population vaccinated so we stop the virus, it may sneak up on us again," Magdalena Plebanski, director of biomedical and health innovation at RMIT University, told SBS News.
Scientists are yet to determine what level of vaccination would be needed among the population to achieve herd immunity and effectively eliminate transmission.
"In terms of vaccine hesitation, we can stand to have some people who don't take the vaccine, but we'd be wanting to push a level of population vaccination at least above 70 per cent in the first instance," Nigel McMillan, an infectious disease specialist at Griffith University, said.
"And that may or may not be enough, we just don't know."
'As mandatory as you can possibly make it'
Mr Morrison said on Wednesday morning he would aim to make any COVID-19 vaccination as "mandatory as you can possibly make it", but hours later told 2GB radio it would only be "encouraged" rather than compulsory.
Mr Morrison introduced a 'no jab, no pay' policy in 2015 while social security minister, which cut some tax benefits for families who refused to vaccinate their children.
Experts are divided on whether a similar hardline approach would be helpful in encouraging immunisation against the coronavirus.
"When we know that the vaccines are safe and effective, people will voluntarily take them up. I think it's probably better to initially stay away from the word 'mandatory'," University of Sydney associate professor Nick Wood said.
"When there's trust in the science, and good evidence about the safety and effectiveness of a vaccine, people will weigh up that with the risk of getting disease. I think with that voluntary sort of uptake, we should be able to get fairly high coverage."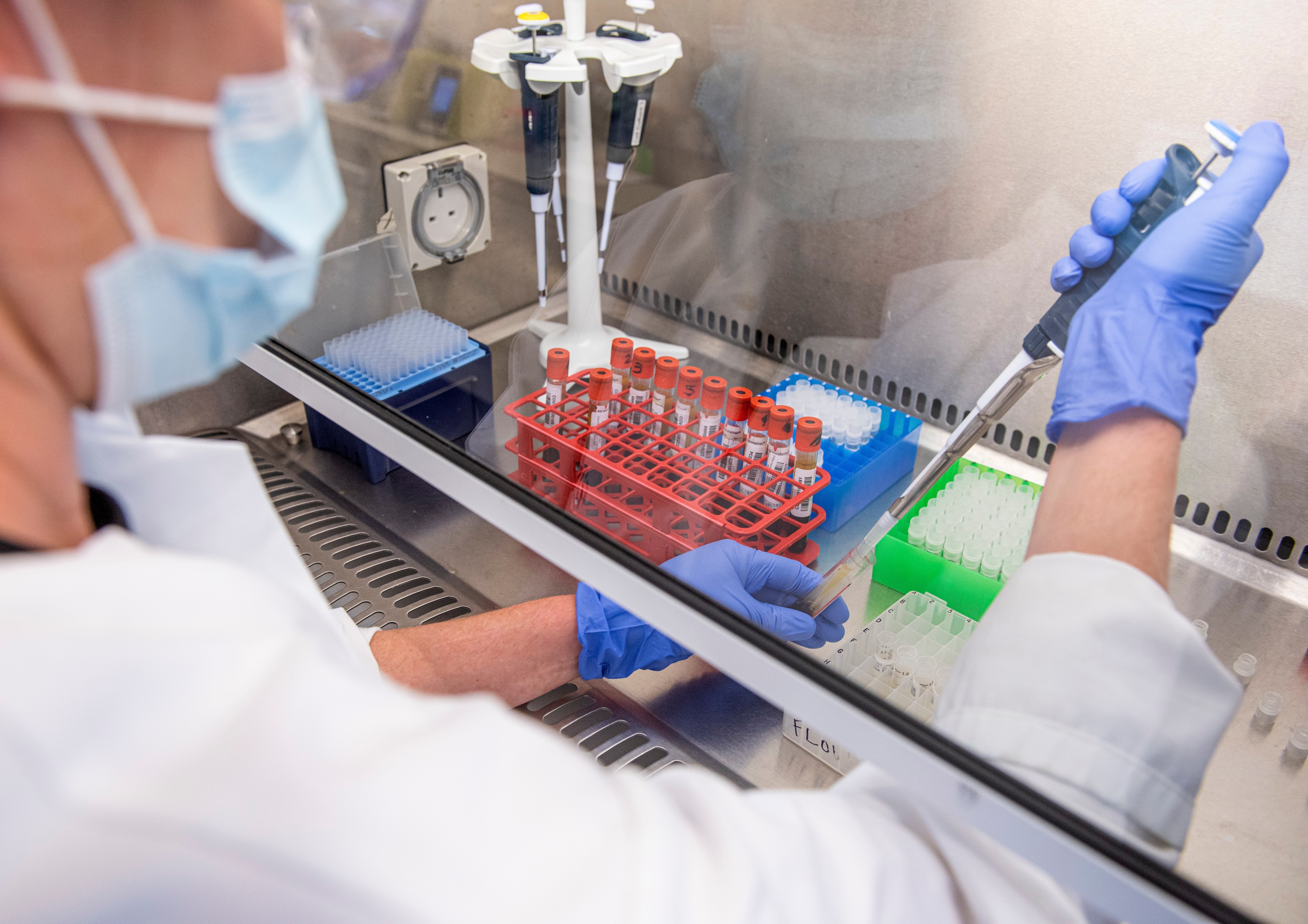 Samples from coronavirus vaccine trials are handled inside the Oxford Vaccine Group laboratory.
John Cairns
Prof Plebanski said the best way to change perceptions was for the government to be "completely transparent" about the vaccination's effectiveness and safety once approved.
"I think it's going to be what's going to carry the tide, in terms of encouraging people who at the moment may not be happy about taking a vaccine to do the right thing for the rest of the population."
There are also other measures the government could introduce to drive up vaccination rates.
"I would imagine that if you wanted, for example, to travel internationally, we or a number of countries would probably demand you couldn't unless you were vaccinated," Prof McMillan said.
How would a vaccine be rolled out?
The government's letter of intent gives Australia the ability to produce a licensed version of the Oxford vaccine.
While it's likely it will become available during the next 12 months, there are still hurdles to clear before a widespread immunisation program can begin.
The Oxford vaccine is currently in phase three trials, which tests its effectiveness across thousands of people.
Around 30,000 volunteers are being recruited from countries with high levels of virus transmission, including Brazil, India, South Africa, and soon, the United States.
Prof Plebanski expects the trial to deliver "really robust data" by the end of the year.
"Before any vaccine can be approved, the results of those trials will have to be understood and analysed, and then a decision is made based on the safety profile and efficacy of it," she said.
If the Oxford trial is successful and the vaccine is approved, the next step is to begin production, with Australia's most prominent vaccine manufacturer, CSL, the frontrunner to produce the doses.
"It could take anywhere up to six months to actually start producing this vaccine and packaging it and getting it out, which pushes us to the sort of middle of 2021," Prof McMillan said.
Mr Morrison admitted there was no guarantee the Oxford vaccine would be successful, so the government was continuing talks with other parties as well as backing Australian researchers.
Culturally appropriate information
Experts also say culturally appropriate information about any vaccine needs to be provided for linguistically diverse communities to ensure their vaccination rates don't fall behind the rest of the population.
University of New South Wales research released on Monday found there were several areas of improvement needed around existing immunisation messaging found online aimed at Australia's migrant and refugee communities.
The research found just 55 per cent of resources passed a threshold of understandability, while four per cent met a threshold of readability.
"We know that already there are disparities in how the public health messages have been delivered to different groups," UNSW researcher and co-author Holly Seale said.
"There are going to be different groups that we need to work on and tailor our messages to.
"It's about ensuring that we use the different actors and stakeholders in communities [and] people that are trusted ... to really get those messages out."
The post about "Australia is edging closer to obtaining a coronavirus vaccine - but will people actually get it?" first appeared on the SBS Australia website.
***
To engage in helping and supporting our Latin American community impacted by the COVID-19 crisis, seek or share information, events, news, forums, and critical connection and collaboration opportunities during this time of mass isolation, join our community at COVID-19 Support Group.
Not yet a member? Get connected and be inspired by more incredible Latin American and Australian professionals. Join the growing Somos21 Community.