Victoria to spend $14 million on more multicultural coronavirus support after translation bungles
Published on
Aug 14, 2020
BY NAVEEN RAZIK
The Victorian government has announced it will spend $14.3 million to better support multicultural communities through the coronavirus crisis after errors were uncovered in the translations of key health messages.
The new funding, announced on Thursday afternoon, includes $6.9 million for organisations that work on the ground to provide culturally specific relief, $2 million for translation and interpreter services, and $5.5 million to expand how those translations are distributed.
A 'CALD Communities Taskforce' - with representatives from the Victorian Multicultural Commission and various departments - will also be established, while contact tracers will get additional cultural training.
"To get on top of this pandemic, it's vital that we all work together," Multicultural Affairs Minister Ros Spence said in a statement.
"That includes looking after multicultural and multifaith Victorians that face unique challenges, like language barriers or access to services."
The funding boost comes after basic language errors were uncovered in both Victorian and federal government coronavirus messaging.
In one case, two different languages were used on the same Victorian government message. The body of the text was written in Farsi, while the government slogan encouraging social distancing was in Arabic.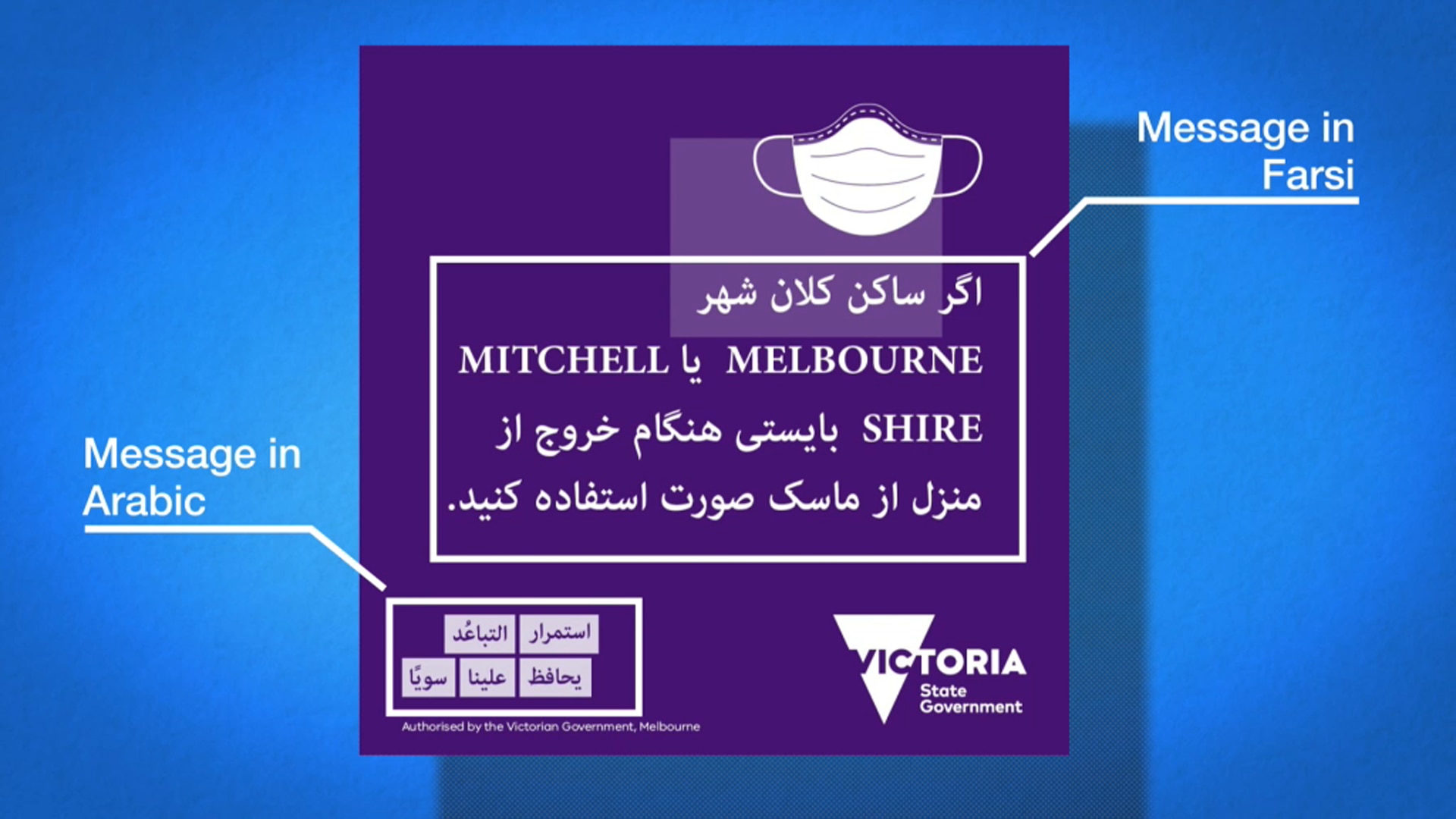 SBS News
Premier Daniel Andrews told reporters on Thursday the translation issues have been corrected.
"There will be things from time to time that are not perfect but the important thing is it's been fixed because it was drawn to our attention," he said.
Some Arabic speakers have also described federal government warning signs in their native language as nonsensical.
Federal Health Minister Greg Hunt said $1 million had already been spent on translations and translators would check material once it was posted online to avoid future errors.
"There is a constant process of checking," he said. "This is an additional element that has been added. Every single day, we are adding to what we do."
A spokesman from the federal Department of Health told SBS News translation service arrangements include mechanisms to minimise the risk of errors.
The department also said an Arabic message identified as being poorly translated was in fact correct, but an error occurred when the document was uploaded to the website.
The federal opposition on Thursday said translation errors undermine Australia's response to the pandemic and called for another $500 million in multicultural communication grants.
"This is critical to the health outcomes of not just them, but everyone who they mix with in the community," Labor leader Anthony Albanese told reporters in Sydney.
Migration Council Australia CEO Carla Wilshere said it is crucial translations are accurate.
"One of the really big concerns around having incorrect translations is it erodes the authority of the information," she said.
The post about "Victoria to spend $14 million on more multicultural coronavirus support after translation bungles" first appeared on the SBS Australia website.
***
To engage in helping and supporting our Latin American community impacted by the COVID-19 crisis, seek or share information, events, news, forums, and critical connection and collaboration opportunities during this time of mass isolation, join our community at COVID-19 Support Group.
Not yet a member? Get connected and be inspired by more incredible Latin American and Australian professionals. Join the growing Somos21 Community.