Queensland hospital wait times improved, despite pandemic disruption
Published on
Aug 13, 2020
By Stuart Layt and Lydia Lynch
Wait times for elective and emergency care in Queensland hospitals have improved despite the COVID-19 pandemic, government-released data shows.
The Queensland government suspended all reporting on the performance of public hospitals in March, in line with the Australian Health Ministers' Advisory Council recommendations in light of the pandemic.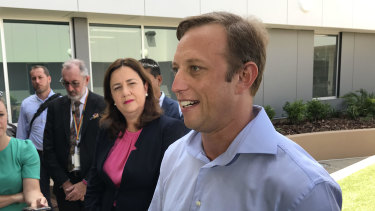 In July, Queensland Deputy Premier and Health Minister Steven Miles promised to release the latest figures for April to June, before finally releasing the report on Thursday.
"In the absence of usual performance reporting I asked the Health Department to prepare a three-month report so we can all see how our hospitals are performing," Mr Miles said.
"I'm pleased to say it shows wait times for elective and emergency care in Queensland hospitals have improved despite the COVID-19 pandemic."
The number of people waiting for elective surgery ballooned to more than 7000 because of pandemic shutdowns of all non-essential work in hospitals.
However, by the end of June, 2774 people were still waiting for a procedure, significantly fewer than expected.
The government credits a quarter of a billion-dollar blitz on elective surgery and other procedures put in place at the start of June with keep the figure down.
Across all emergency departments the median wait to be seen was 10 minutes in the quarter to June 2020, down from 15 minutes in the same period in 2019.
Indeed, nearly 90 per cent of patients were seen at emergency departments within clinically recommended times, a big jump from 76 per cent in June 2019.
Category One surgeries were never halted even at the height of the pandemic in Queensland, with 11,723 performed over the report period.
Mr Miles said the impact on Queensland's hospitals from the pandemic was smaller than anticipated, and they were recovering faster than planned.
"It is incredible to think that while many hospitals around the world are struggling to cope, our fantastic health staff managed to improve performance across most measures," he said.
"I want to sincerely thank the Queenslanders who had surgeries deferred for their patience and understanding."
Staff at hospitals in the Metro South health district, including Logan Hospital and the Princess Alexandra Hospital, were told to prepare to scale down elective surgery at the start of the month after a cluster scare caused by three women returning from Melbourne.
However, with that cluster appearing to be suppressed, those measures will not have to be put in place.
The government committed $250 million in June to reducing the elective surgery backlog, with the money to be spent on extra theatre lists at night and on weekends, as well as buying theatre time in the private sector.
Queensland had more than 52,200 patients on elective surgery waiting lists at the start of June.
The post about "Queensland hospital wait times improved, despite pandemic disruption" first appeared on the Brisbane Times website.
***
To engage in helping and supporting our Latin American community impacted by the COVID-19 crisis, seek or share information, events, news, forums, and critical connection and collaboration opportunities during this time of mass isolation, join our community at COVID-19 Support Group.
Not yet a member? Get connected and be inspired by more incredible Latin American and Australian professionals. Join the growing Somos21 Community.