Coronavirus: What are the numbers out of Latin America?
Published on
Aug 11, 2020
By Jake Horton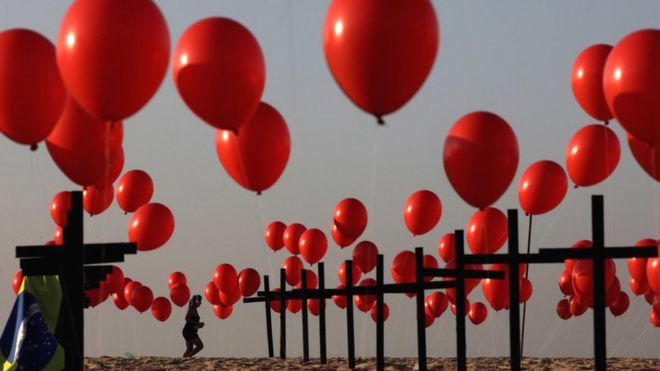 Coronavirus cases have been rising sharply in Latin American countries, contributing to record numbers of new infections being registered globally.
Brazil has had more than 3 million confirmed cases - the second highest in the world after the US.
Mexico, Chile, Colombia and Peru are also battling major outbreaks, and are in the top 10 countries with the most confirmed cases.
So what are the main trends in Latin America?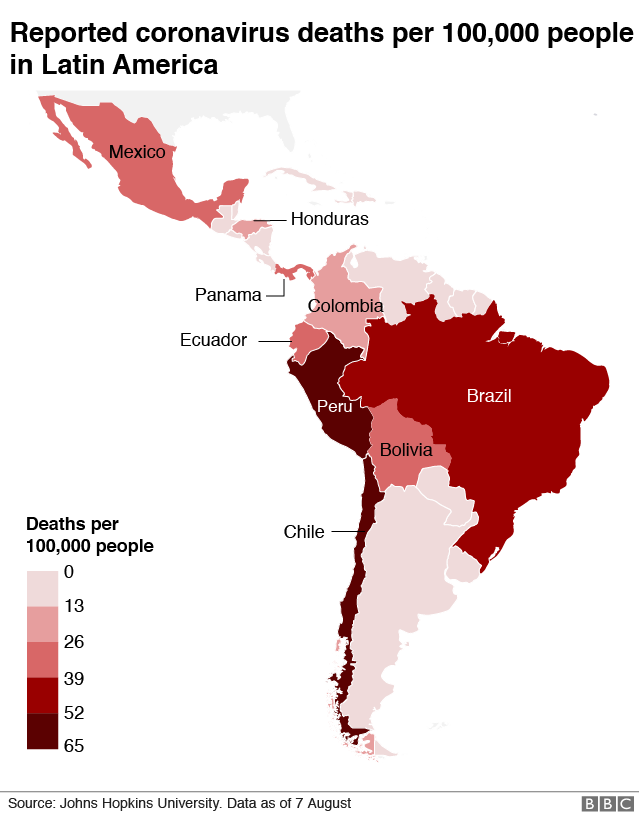 The first confirmed case in Latin America was identified in Brazil in late February, although researchers have said there are indications that there were cases there as early as January.
Coronavirus has since spread to every country in the region, from Central to South America.
More than 5.4 million cases have been recorded, and more than 210,000 people have died, according to data compiled by the European Centre for Disease Control and Prevention.
The two most populous nations, Brazil and Mexico, have seen the highest number of deaths - more than 100,000 and 52,000 respectively.
Peru has had more than 21,000 confirmed deaths. And Chile has had more than 10,000 people dead, although the number of daily cases has been coming down.
Colombia continues to see cases and deaths rise, with more than 12,000 confirmed deaths.
Ecuador recorded one of the earliest and worst outbreaks in the region, although daily deaths here have now dropped.
How big is the epidemic in Latin America now?
Daily reported deaths in many Latin American countries remain high, as they have fallen in most countries in Europe.
You can see the differing trends when looking at Brazil, Mexico and Peru compared with three of the worst-hit countries in Europe in terms of deaths - the UK, Italy and France.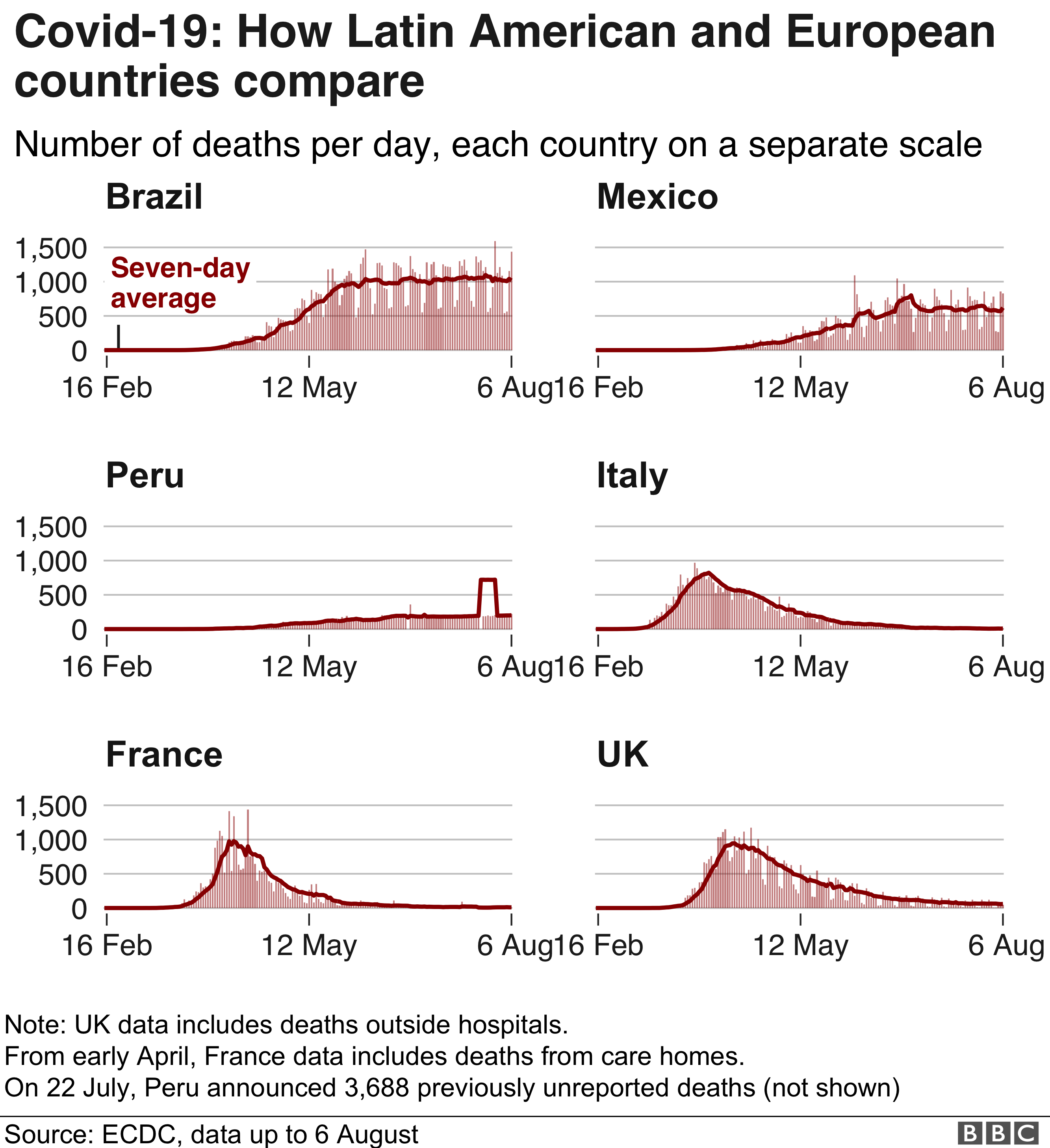 The head of the Pan American Health Organization, Dr Carissa Etienne has warned that coronavirus is spreading "exponentially" in many areas of the region.
Dr Etienne has said "there can be no doubt our region has become the epicentre" of the pandemic.
mapped
Show
5,100,000
510,000
Circles show number of confirmed coronavirus cases per country.
Source: Johns Hopkins University, national public health agencies
Figures last updated 11 August 2020, 10:35 BST
Daily cases continue to rise in many countries in the region, but researchers say both cases and deaths may be under-reported.
For example, a study by the University of São Paulo Medical School estimates the number of infections in Brazil could be up to five times higher than the official figure, with the lack of certainty about numbers due to the low levels of testing.
How much testing has been done?
Chile has one of Latin America's highest rates of testing - it had done more than 92 tests per 1,000 people as of 6 August.
But testing across most of the region has been well below some other parts of the world, according to the most recent figures compiled by Our World in Data, a UK-based project which collates Covid-19 information.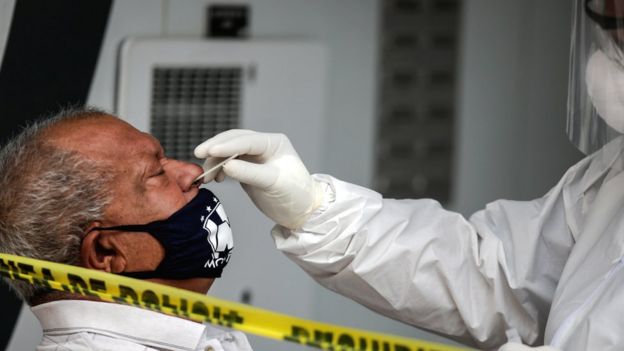 Mexico has tested just over seven people for every 1,000, and Brazil had tested nearly 12 in every 1,000 as of 21 July (the latest data available) - compared with more than 180 per 1,000 in the US (as of 6 August).
And of the tests these countries are doing, very high proportions are turning out to be positive, suggesting that they are not testing widely enough to find all cases.
What is being done to stop the spread?
As cases rapidly rose in Chile, the government tightened lockdowns across the country.
Mexico and Brazil have continued to take less severe lockdown measures than other Latin American countries.
Both have given out guidelines, but have not imposed national restrictions.
Brazil's President Jair Bolsonaro has repeatedly downplayed the risks of the virus, but then caught Covid-19 himself.
Marcia Castro, a global health professor at Harvard University, says that "the response in Brazil is far from ideal, and currently there is a lack of a uniform message coming from the leadership at different levels."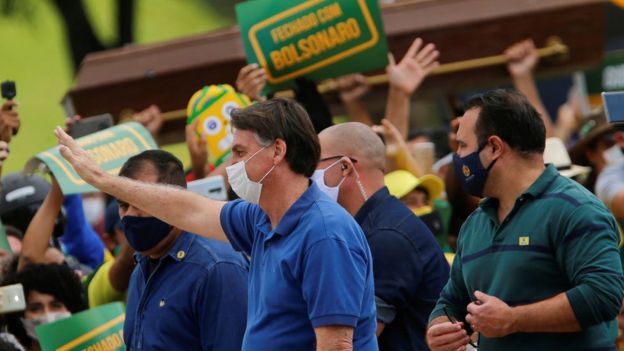 Other countries such as Argentina have imposed compulsory lockdowns.
Prof Castro says it is, along with Uruguay, among the countries in the region for now able to manage the spread.
Peru had one of the first and strictest national lockdowns in the region, which lasted until the end of June.
But it continued to see both cases and deaths rise.
Graphics by Cecilia Tombesi
The post about "Coronavirus: What are the numbers out of Latin America?" first appeared on the BBC News website.
***
To engage in the latest trends, developments, and opportunities regarding social impact, initiatives, and job opportunities across Australia and Latin America, join our community at Social Impact Group.
Not yet a member? Get connected and be inspired by more incredible Latin American and Australian professionals. Join the growing Somos21 Community.