WA delays easing of restrictions amid Victorian pandemic crisis
Published on
Aug 07, 2020
By Nathan Hondros
Premier Mark McGowan has announced a further delay in easing Western Australia's pandemic measures, telling reporters on Friday 'phase 5' restrictions would be delayed until at least August 29.
The easing of pandemic rules, which had been planned for next week, would have meant all restrictions would have been dropped in WA except for the 'hard border'.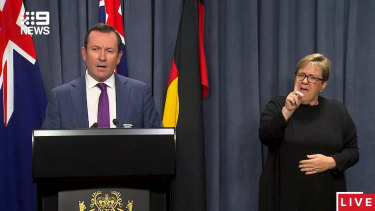 It would have permitted Optus Stadium to have been filled to its full 60,000-person capacity.
But Mr McGowan said the August 29 date was tentatively scheduled.
"I know this may cause some frustration for some sections of the community and the business community, but we need to be extra cautious here," he said.
"The nation is on high alert right now. We cannot afford to let our guard down and take unnecessary risks.
"As a nation we have entered the most dangerous phase of this pandemic."
The Premier also announced a protocol for testing truck drivers who enter the state.
Every truck driver crossing the border will be required to show proof they have had a negative COVID-19 test in the previous seven days.
If not, they would be required to take a test within 48 hours. Currently, truck drivers are classed as essential workers and can enter the state without restriction.
Essential workers from Victoria who do not have to self-isolate on arrival are considered the second highest risk group for coronavirus to return to WA. The first is international travellers in hotel quarantine.
In South Australia, an essential who crossed the border from Victoria tested positive for COVID-19 on July 30 while staying at a non-quarantine hotel. His infection has so far led to a cluster of five cases, including a woman who worked at a school while infectious.
The post about "WA delays easing of restrictions amid Victorian pandemic crisis" first appeared on the WA Today website.
***
To engage in helping and supporting our Latin American community impacted by the COVID-19 crisis, seek or share information, events, news, forums, and critical connection and collaboration opportunities during this time of mass isolation, join our community at COVID-19 Support Group.
Not yet a member? Get connected and be inspired by more incredible Latin American and Australian professionals. Join the growing Somos21 Community.