By SBS Australia
Some translators were prevented from helping residents of nine locked-down public housing towers in Melbourne because of an industrial dispute, according to their union.
Members of Translators and Interpreters Australia claim they were unable to assist some 3,000 residents, who were in a hard coronavirus-induced home detention for nearly a week, due to a dispute with the federal government's translating service.
They say for two months they have refused to sign contracts with the Translating and Interpreting Service, also known as TIS National, because they can be varied for up to 10 years.
TIS National is an interpreting service provided by the Department of Home Affairs.
"I have been working for TIS for the past 25 years, but now I have been deactivated because I did not sign their deed," TIA member Abbas Kazemi said in a statement.
TIA organiser Niki Baras described the move as a "petty attempt to gain an advantage during an industrial dispute".
"This is an appalling, bloody-minded tactic that has compounded the suffering of the hundreds of residents within the housing estates who need language support," she said.
"We have been negotiating a settlement to this dispute in good faith, but TIS are refusing to shift on crucial elements of the deed."
Eight towers joined the rest of Melbourne in stage three lockdown on Thursday, but residents of the tower at 33 Alfred Street in North Melbourne will remain in self-isolation for nine days.
As of Thursday, 53 people in the building, which has more than 400 residents, had tested positive to COVID-19.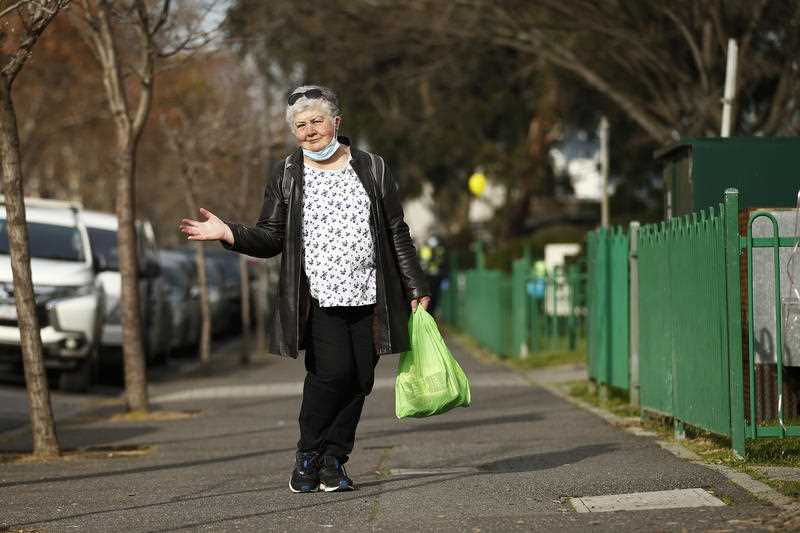 A resident of a public housing tower in North Melbourne is seen out and about after having restrictions eased, in Melbourne, Friday, July 10
AAP
Victorian Chief Health Officer Brett Sutton warned on Thursday that 25 per cent of all Alfred Street residents were likely to contract COVID-19.
On Friday, Voices from the Blocks - a coalition of residents and family and community members from the public housing estates - said it wanted residents deemed high risk to relocate with family and friends located outside the towers until the COVID-19 crisis was deemed under control.
The coalition said the lifting of restrictions on eight of the towers would not have been possible if it weren't for the advocacy of community groups.
"In a matter of hours, we turned this crisis into victory, as the entire community came together, to support one another and speak up for each other," it said in a statement.
"Our elected officials and funded institutions were not able to provide for our basic needs - so we did that for our community."
The Greens are calling for an inquiry into the hard lockdown of the nine towers.
In a letter to Premier Daniel Andrews, the Greens said they supported the government's health-led response to the crisis but held "serious concerns" about the lockdown management.
"We remain deeply concerned that residents were locked in their homes without access to essential provisions, such as food and medicine, or even any information about how they would receive such provisions," read the letter, which was signed by Greens leader Adam Bandt, state MP Ellen Sandell and councillor Rohan Leppert.
The post about "Home Affairs dispute hampered Melbourne tower residents' access to translators, union says" first appeared on the SBS Australia website.
***
To engage in helping and supporting our Latin American community impacted by the COVID-19 crisis, seek or share information, events, news, forums, and critical connection and collaboration opportunities during this time of mass isolation, join our community at COVID-19 Support Group.
Not yet a member? Get connected and be inspired by more incredible Latin American and Australian professionals. Join the growing Somos21 Community.