By SBS Australia
All Victorians will be turned away from the Queensland border from Friday.
A surge in new cases of COVID-19 has pushed the state government to harden its stance on visitors from the southern state.
"From noon, July 10, visitors from Victoria will no longer gain access or be able to quarantine in Queensland," Premier Annastacia Palaszczuk said in a tweet on Thursday.
"They will be turned around."
No new cases of the disease have been recorded overnight.
READ MORE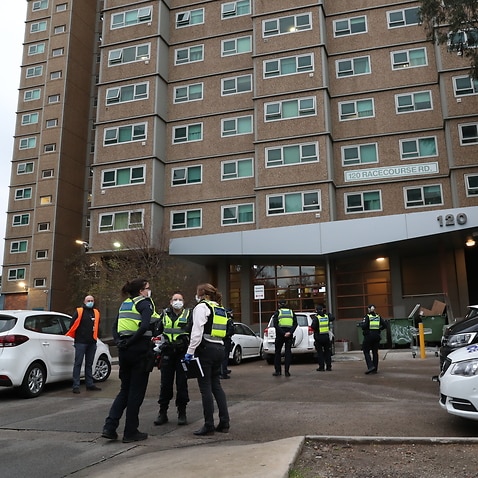 The state's borders have been closed since mid-March to stop the spread of COVID-19 but will reopen to all other states and territories as part of the stage three easing of restrictions from noon.
Anyone wanting to enter Queensland will need to have completed a border declaration and have ID available, either when they arrive at an airport or at a road crossing.
A Sydney man found out how serious Queensland is about border crossings after he was fined $4,003 for carrying a fake ID and lying about needing to enter for essential medical treatment.
The 43-year-old was travelling from New South Wales on a bus that was stopped by police at the Griffith Street border checkpoint on Wednesday morning.
The fine came as Queensland recorded another day of zero positive tests, with just two cases remaining in the state including an 81-year-old man who has been battling the illness for four months.
South Australia has also officially closed its border with Victoria from Thursday, with only people returning home and essential travellers allowed to cross into the state.
As the closure neared, police reported a spike in people wanting to make the trip and advised of some delays in processing applications.
The new restrictions will apply to everyone arriving by road or air while people living in cross-border communities will be restricted to a 50km radius inside South Australia.
Police Commissioner Grant Stevens said maps were being produced to clearly show the entry limits and anyone from Victoria found breaching the rules could face a $1,000 fine or further action.
People living near the border and needing to enter SA to conduct daily activities, like attending school or work, must have a pre-approved essential traveller exemption.
Mr Stevens said additional resources would be deployed to border crossing points, with some smaller roads to be blocked.
SA police are also in discussions on the possible use of Australian Defence Force personnel to assist with the border lockdown.
South Australia reported no new virus cases on Wednesday and has only two active infections.
Tasmania has extended its state of emergency, but is yet to make a decision on its borders, with Premier Peter Gutwein saying he will make a decision after national cabinet on Friday.
Tasmania's state of emergency would have expired on Thursday but was extended for a period of four weeks from 11 July.
The post about "Queensland to turn back Victorians while South Australia closes Victoria border" first appeared on the SBS Australia website.
***
To engage in helping and supporting our Latin American community impacted by the COVID-19 crisis, seek or share information, events, news, forums, and critical connection and collaboration opportunities during this time of mass isolation, join our community at COVID-19 Support Group.
Not yet a member? Get connected and be inspired by more incredible Latin American and Australian professionals. Join the growing Somos21 Community.

---
Other news