By SBS Australia
Western Australia Premier Mark McGowan is seeking a cap on the arrival of international flights to Perth after three new coronavirus cases were recorded on Monday among returning travellers.
In another move designed to prevent an influx of arrivals, the government has drafted urgent legislation which would force all returning travellers including West Australians to pay for their mandatory 14-day hotel quarantine.
The newest cases included two interstate residents who arrived from Indonesia and one West Australian on a flight from Doha.
A further six cases were reported on Sunday among four women and two men who arrived on Wednesday from Dubai.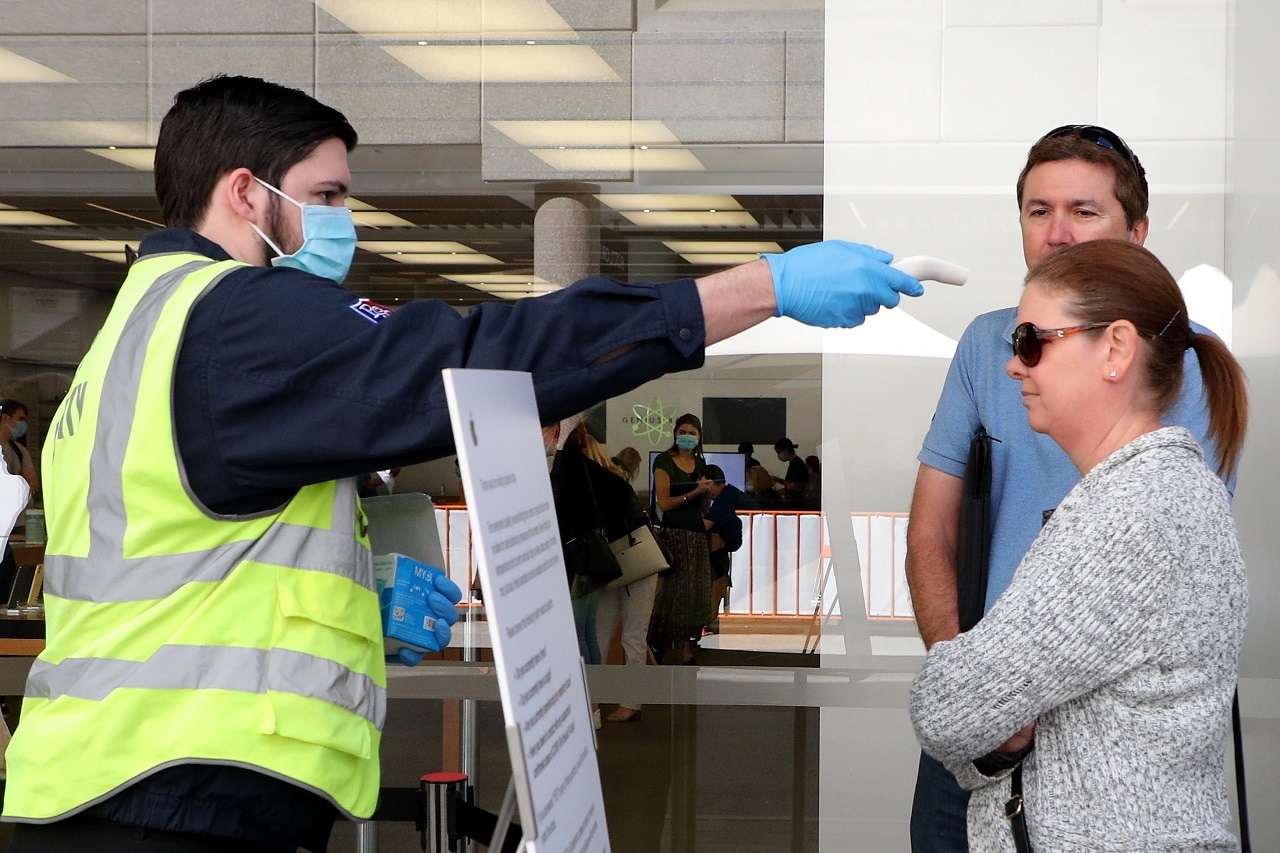 Customers have their temperatures taken before being allowed entry into a Perth store.
AAP
Contact tracing is underway for the passengers, who are all in hotel quarantine.
More than 1,100 people are currently in quarantine in Perth across five hotels, with many others isolating at home.
"For those West Australians that have been stuck overseas for whatever reason, the desire to come home is now obviously stronger than ever," Mr McGowan said.
"We need to slow the flow of arrivals into Western Australia."
Mr McGowan also said he had written to Prime Minister Scott Morrison urging the federal government to withdraw its support for Clive Palmer's High Court challenge against the state's border closures.
Attorney General Christian Porter has signalled the Commonwealth's support for Mr Palmer's legal challenge against WA's strict interstate border restrictions, which is before the Federal Court after being initially heard in the High Court.
Mr McGowan says it makes no sense for the Morrison government to back the billionaire mining magnate while also endorsing the NSW-Victoria border closure.
"The legal challenge, and especially the Commonwealth's involvement in it, has now become completely ridiculous," the premier told reporters on Monday.
"This nonsense has to stop and it has to stop now."
The prime minister's office has been contacted for comment.
A spokesperson for Mr Palmer said the former federal MP had no intention of dropping his legal challenge.
There are now 12 active cases in WA, including two people from interstate. The state has not recorded a community-based infection since 11 April.
WA is scheduled to move into phase five of its roadmap on 18 July, removing all remaining limits on gatherings and allowing 60,000 capacity crowds at Optus Stadium.
But Mr McGowan said the date could be pushed back with authorities keeping a close watch on the latest outbreak in Victoria.
The post about "WA wants a cap on international flights after new COVID-19 cases" first appeared on the Reuters website.
***
To engage in helping and supporting our Latin American community impacted by the COVID-19 crisis, seek or share information, events, news, forums, and critical connection and collaboration opportunities during this time of mass isolation, join our community at COVID-19 Support Group.
Not yet a member? Get connected and be inspired by more incredible Latin American and Australian professionals. Join the growing Somos21 Community.
---
Other news