Fifty employees at Sydney Woolworths in coronavirus self-quarantine; NT first case in months
By SBS Australia
A NSW man who spent two weeks in hotel quarantine in Victoria has tested positive to COVID-19 after returning to Sydney and working at a supermarket.
NSW chief health officer Dr Kerry Chant said the man is an employee at Woolworths in the inner-Sydney suburb of Balmain, and tested positive to the virus after his employer noticed he had minor symptoms.
He worked at the store between 27-28 June and 50 employees are now in isolation after being identified as close contacts. The store has undergone a deep clean.
The man had been in hotel quarantine in Victoria from 11 June to 26 June after flying from Bangladesh. He tested positive to COVID-19 on day four of his quarantine period.
Dr Chant said he was assessed as not infectious and cleared of the virus before he was discharged, but it's unclear if this assessment included another COVID-19 test.
He reported "persistent symptoms" to NSW Health in Sydney and is believed to have been at the "tail end" of the infection while he was working.
"The level of virus detected is very, very low ... but because he's also got symptoms we're just treating this as the utmost of precaution that he may be infectious," Dr Chant told reporters in Sydney on Thursday.
"We do assess the risk as low."
She said remnants of the virus may still exist in people for up to eight weeks, but people are deemed non-infectious if they're symptom free for 72 hours and if at least 10 days have passed since the onset of symptoms.
"For the utmost of caution we are treating him as possibly infectious," she said.
Shoppers to remain vigilant of symptoms
NSW Health Minister Brad Hazzard said people who've shopped at Woolworths in Balmain should be alert to developing symptoms.
Mr Hazzard also warned that health authorities will be screening people at airports across NSW to ensure Melbourne residents from COVID-19 outbreak areas are not entering the state.
Any who do try to enter NSW could face six months' imprisonment or a fine of $11,000 from Thursday.
"Just don't come," he said alongside Dr Chant.
NSW residents who return from Melbourne hotspots, meanwhile, will be required to self-isolate at home for 14 days and could face similar penalties if they skip quarantine.
The health minister also warned that Victorians from outside the Melbourne hotspots who visit NSW should brace for extra attention from police, including having their cars stopped.
Northern Territory records first COVID-19 case since April
A returned traveller who has become the Northern Territory's first case of coronavirus in almost three months, spent time in a Melbourne infection hotspot before flying to Darwin.
The man is a Darwin resident in his 30s who came back to Australia from overseas, Health Minster Natasha Fyles said on Thursday.
He completed two weeks of quarantine in Melbourne before flying from Melbourne to Brisbane and then Brisbane to Darwin, arriving in the NT capital on Monday.
But before travelling to Darwin he stayed with family in one of the hotspots for the virus in Melbourne for a couple of days.
Upon his return to Darwin he started to feel unwell and was tested for COVID-19, with the positive result confirmed on Wednesday night.
The man was taken to Royal Darwin Hospital and is in isolation but is experiencing only mild symptoms.
"This individual has followed all the precautions and we wish them all the best," Ms Fyles said.
"I want to reassure the community there has been minimal contact with the broader community.
"This is not a case of community transmission."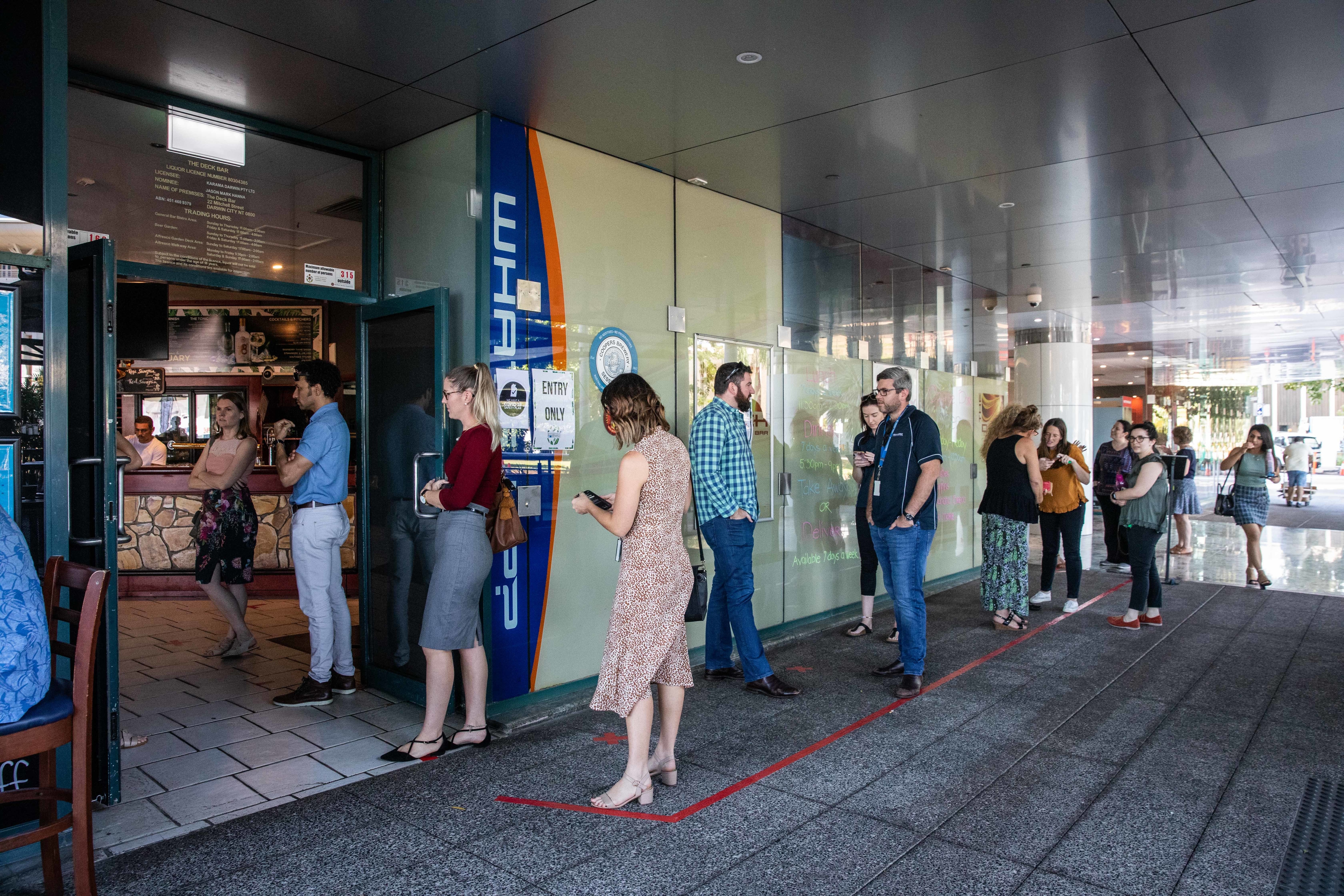 The Northern Territory lifted a range of restrictions in May but social distancing is still required.
AAP
The NT recorded its last case of coronavirus on 6 April and NT Chief Health Officer Hugh Heggie said the new case was a reminder to all Territorians that COVID-19 had not gone away.
"What's important is that everything that we have put in place seems to have worked and Territorians need to be assured that there's no risk to the community," he said.
Ms Fyles said the new case would not change the NT's decision to relax border restrictions on 17 July, when only travellers from hotspots would be required to quarantine.
The post about "Fifty employees at Sydney Woolworths in coronavirus self-quarantine; NT first case in months" first appeared on the SBS Australia website.
***
To engage in helping and supporting our Latin American community impacted by the COVID-19 crisis, seek or share information, events, news, forums, and critical connection and collaboration opportunities during this time of mass isolation, join our community at COVID-19 Support Group.
Not yet a member? Get connected and be inspired by more incredible Latin American and Australian professionals. Join the growing Somos21 Community.
---
Other news