by Andina
Founder and CEO of El Dorado Investments Melvin Escudero affirmed that the signing of the agreement between Peru and the United Kingdom of Great Britain and Northern Ireland —to boost the execution of works under the Reconstruction with Changes Program— decentralizes decision-making, thus allowing the South American country to take crucial steps towards the closing of the infrastructure gap.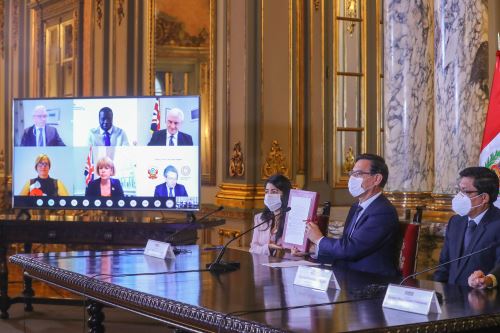 The Republic of Peru and the United Kingdom of Great Britain and Northern Ireland on Monday signed the government-to-government agreement for the Reconstruction of the North, following the same execution model that ensured the success of the Lima 2019 Pan American Games.
In a ceremony held at the Lima-based Government Palace, the Head of State specified that the regions of Tumbes, Piura, Lambayeque, La Libertad, Ancash, Lima, Ica, Huancavelica, and Cajamarca are the ones to directly benefit from this contract.
President Martin Vizcarra announced that some S/7 billion (over US$2.020 billion) will be invested in the execution of the Reconstruction with Changes Program over a period of two years, and noted that an amount higher than S/1 billion (above US$288 million) will be allocated to nine regions of the country following the signing of the government-to-government agreement until completion of the current year.
Decentralization of decision-making
"The Government sought to improve the development of infrastructure through the National Infrastructure Plan. Thus, 52 projects totaling almost S/100 billion (around US$28.4 billion) have been launched. One part is being implemented and the other is pending, but this is not having the impact we expected, mainly due to the health crisis we are going through," Escudero told Andina news agency.
In addition to this, he added, regional and local governments have not been sufficiently effective in this regard, because the speed at which projects have been implemented has left much to be desired.
"From this perspective and considering the need for current infrastructure, this type of agreement allows decentralization of decision-making and speeds up the works," the El Dorado Investments CEO expressed.
The post about "Reconstruction with Changes to contribute to closing Peru's infrastructure gap" first appeared on the Andina website.
***
To engage in the latest trends, developments, and opportunities in infrastructure across Australia and Latin America, join our community at Infrastructure Group.
Not yet a member? Get connected and be inspired by more incredible Latin American and Australian professionals. Join the growing Somos21 Community.
---
Other news