By SBS Australia
Police have warned they will be "out in force" on Saturday to deal with unauthorised refugee rights protests planned in Sydney and Melbourne.
Earlier this week the New South Wales Supreme Court blocked the "free the refugees" protest scheduled for Saturday afternoon at Sydney Town Hall, ruling the health risks outweighed the rights of public assembly and free speech.
The Refugee Action Coalition (RAC), who organised the event, said the protest would go ahead regardless of the court ruling. Just under 300 people have clicked attending on the protest's Facebook event page.
READ MORE
"We'll still be holding an event this Saturday, urging people to participate," RAC organiser James Supple told reporters on Thursday.
Organisers have suggested attendees walk, jog or cycle around Town Hall - similar to weekly protests that have been held outside the Kangaroo Point hotel in Brisbane, where asylum seekers are held - to avoid breaching gathering restrictions.
On Friday night, 600 police officers outnumbered protesters two to one as they smothered a protest calling for an end for Indigenous deaths in custody in Sydney CBD.
The steps of Sydney's Town Hall, ahead of a 2pm rally led by refugee advocates. @SBSNews
The protest took place almost a week after approximately 20,000 people marched through the city in solidarity with Black Lives Matter protests in the US.
Following the incident on Friday, Assistant Commissioner Mick Willing warned that another 600 officers would again be on the ground on Saturday to "take whatever action we need to take to ensure that the COVID health order is applied".
READ MORE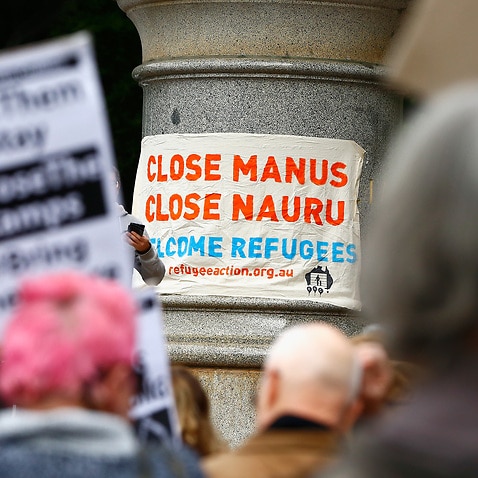 "I again issue the same advice to anyone who thinks they can come into the city and engage in an unauthorised public gathering: don't do it," he told reporters.
Meanwhile, in Melbourne, organisers have planned to hold rallies of no more than 20 people in eight locations across the city in a bid to avoid breaching COVID-19 restrictions.
Very peaceful mood in Sydney for refugee rights protest. Protesters taking small laps around the CBD in small groups to abide by social distancing rules. @SBSNews
39 people are talking about this
The protests, which are calling for an end to the indefinite detention of asylum seekers, will be held at Mantra Preston, the Melbourne Immigration Transit Accommodation, Border Force offices in Docklands, Casselden Place Immigration Office, the Liberal Party headquarters, the State Library, State Parliament and acting Immigration Minister Alan Tudge's office.
Organisers are urging those planning to attend to register to ensure numbers do not exceed the 20-person limit at any one location.
READ MORE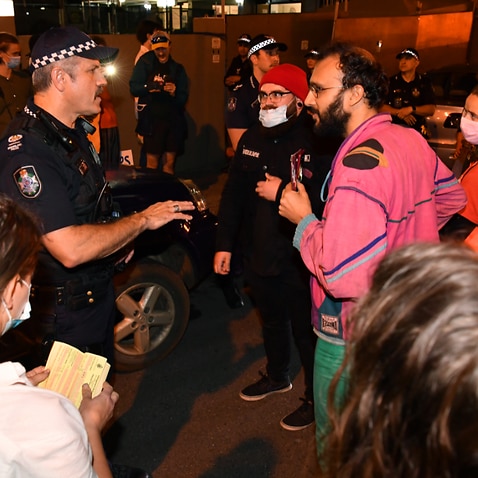 Victoria Police have warned that organisers of the protests could be fined if the rallies breach social distancing rules after three organisers of last weekend's Melbourne Black Lives Matter march were fined $1,652 each.
Both Prime Minister Scott Morrison and opposition leader Anthony Albanese have called on people not to attend the protests over the weekend.
"People shouldn't protest. People should follow the health advice, and the health advice is very clear from the chief medical officer," Mr Albanese said on Saturday morning.
"Our democracy is important, that people can have their say. There are a range of ways you can have your say without breaching the advice of the health experts."
Organisers of both protests are urging attendees to wear a face mask, use hand sanitiser and practice physical distancing.
The post about "Police stand ready to quash unauthorised refugee rights protests in Sydney, Melbourne" first appeared on the SBS Australia website.
***
To engage in the latest trends, developments, and opportunities regarding social impact, initiatives, and job opportunities across Australia and Latin America, join our community at Social Impact Group.
Not yet a member? Get connected and be inspired by more incredible Latin American and Australian professionals. Join the growing Somos21 Community.
---
Other news