BY ANEETA BHOLE, JARNI BLAKKARLY
Around one thousand people have gathered in both Darwin and Perth to show their support for the Black Lives Matter movement and protest against Indigenous deaths in custody.
In Darwin, the crowd gathered on Saturday morning at Civic Park before slowly marching through the central business district.
The crowd was peaceful and followed police instructions throughout the march.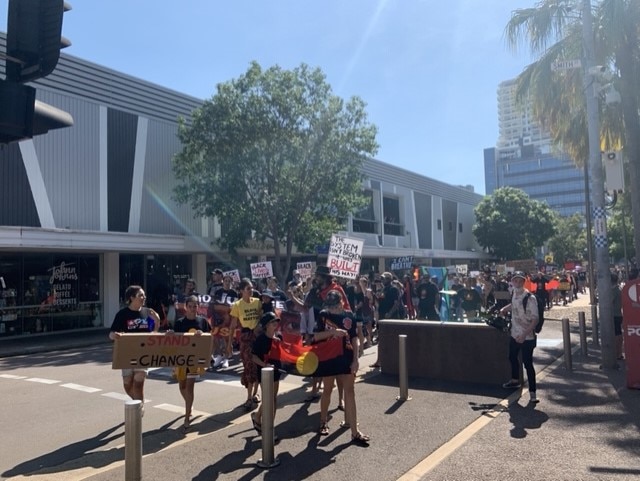 Protesters gathered peacefully to march through Darwin's CBD.
SBS News/Aneeta Bhole
Some carried signs that read "colour is not a crime" and "no room for racism" and chanted "I can't breathe", the last words of George Floyd before he died in May at the hands of Minneapolis police in the US.
This is the second weekend Australia has seen Black Lives Matter rallies go ahead, despite warnings from politicians and health officials that it was unsafe to protest due to coronavirus.

See Aneeta Bhole's other Tweets
A small protest took place in Sydney on Friday night.
Northern Territory Chief Minister Michael Gunner had said the protest could go ahead as organisers had submitted a "COVID-safe plan", which was a requirement for any gathering over 500 people.
It has been 41 days since the NT recorded its last coronavirus case.
Meanwhile, a similar rally at Langley Park in Perth has drawn at least 1,000 people.
Organisers ignored WA Premier Mark McGowan's pleas to delay the protest until after the coronavirus pandemic is over.
Attendees were asked to bring their own water, face masks and hand sanitiser, and stand 1.5 metres apart if they are from different households.
Perth's second #BLM rally has kicked off. 8,000 are expected to come out to the event at Langley Park
Hundreds have rejected the advice from the PM, WA Premier, and both Indigenous Affairs Ministers to turn up for the #BLMPerth
30 people are talking about this
More than 11,000 face masks have been donated by the local Chinese community for the event.
Police Commissioner Chris Dawson ruled out shutting down the protest but warned any violence would be met with "strong policing".
Perth Police charged a man on Friday after the Captain James Stirling statue on Hay Street outside Town Hall was spray-painted.
The statue's neck and hands were painted red and an Aboriginal flag was painted over the inscription at the base.
A 30-year-old North Beach man is due to face the Perth Magistrates Court at an unspecified date charged with criminal damage or destruction of property.
The post about "Thousands gather across Darwin and Perth for Black Lives Matter solidarity protests" first appeared on the SBS Australia website.
***
To engage in the latest trends, developments, and opportunities regarding social impact, initiatives, and job opportunities across Australia and Latin America, join our community at Social Impact Group.
Not yet a member? Get connected and be inspired by more incredible Latin American and Australian professionals. Join the growing Somos21 Community.
---
Other news