By Stuart Layt
Mary Gaston has lived in the same small town for almost 50 years and has no intention to leave – it is hoped a new method of remote medicine will make sure she never has to.
The 78-year-old has lived in the NSW town of Yetman, near the Queensland border, since she and her husband Tod moved there 45 years ago.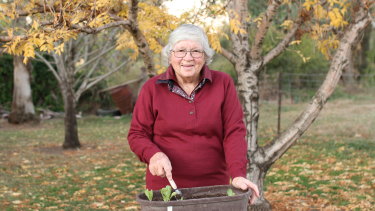 Tod died last year after having heart and lung issues for a number of years, and had to travel three hours to see specialists in Toowoomba on a regular basis leading up to his death.
Mrs Gaston, who herself has type 2 diabetes and has to travel to the town of Texas to see a GP, said having to travel for basic healthcare was a burden being borne by many people living in rural parts of the country.
"Yetman is more or less full of older people, there's a few younger ones, but most people in town are elderly," she said.
"We don't get any services - if I now get sick, I'll have to get to Toowoomba, or get myself to Texas and there's a car that will take you and bring you back."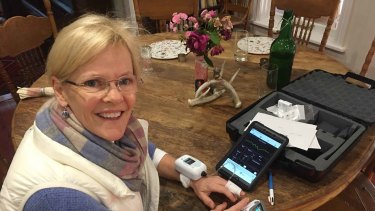 Now a new pilot program could provide hope to people in Mrs Gatson's situation, with researchers from the University of New England ready to trial their method of remote health monitoring.
Professor Rod McClure, dean of medicine at UNE, said they had 165 wrist monitors that were able to give hospital-level information about a patient's vital signs from their homes.
"The monitors give information on blood pressure, pulse, oxygen saturation, temperature and ECG, so this is really high-end monitoring," Professor McClure said.
"And once we develop the process, you could attach blood-sugar monitors, [and] monitors for any number of more mild conditions which people have to check themselves up on."
The pilot program had been ready to roll out a few months ago; however, Professor McClure said they volunteered to use the machines to help monitor coronavirus patients in remote locations.
"There have been no new COVID cases that require monitoring since we've had access to this machinery," he said.
"We don't know what COVID will do in the future, so we might have to help again with that, but we can have wards around palliative care, wards around cardiac disease – we can swing this on to other conditions where monitoring at home would be advantageous to the patient."
Kate Dight, Mrs Gatson's neighbour and also a Inverell Shire Councillor, said using the remote monitoring for people in remote areas like those in Yetman would mean people in small towns would stop needing to leave for health reasons.
"For any specialist services, people from Yetman have to go elsewhere," Cr Dight said.
"Mary is a perfect example: she's been here for nearly 50 years, her husband's just passed away, we don't want her to feel like she has to go, where would she go?"
UNE has now activated its remote monitoring station at Armidale hospital, providing around the clock monitoring for the remote monitors, and is now seeking to get local GPs to get their patients to use them.
For Mary, the technology would mean being able to have the piece of mind to keep living the life she and her husband went chasing nearly half a century ago.
"People say, why would you want to go to a one-horse town, but every place is what you make it," she said.
"So I don't want to move, and as long as I can stay fit and look after myself I'll stay here, and if this monitor helps me do that then it's a very good idea."
The post about "Remote medical monitoring system to help rural patients goes live" first appeared on the Brisbane Times website.
***
To engage in the latest trends, developments, and opportunities in health and wellness across Australia and Latin America, join our community at Health and Well-Being Group.
Not yet a member? Get connected and be inspired by more incredible Latin American and Australian professionals. Join the growing Somos21 Community.
---
Other news