Premier Mark McGowan has urged people to go out and spend money in their own backyard, as tens of thousands of West Australians return to work on Saturday in light of eased pandemic restrictions.
From midnight, the Kimberley, Shire of Ngaanyatjarraku and parts of the East Pilbara will reopen to the public after the federal government lifted the Commonwealth biosecurity restrictions this week.
A new 2-square-metre rule will also replace the current one person per 4 square metre requirement and indoor and outdoor gatherings of up to 300 people per venue will be allowed.
Venues will also be able to apply for an exemption to host more than 300 patrons.
From Saturday, patrons at pubs and bars will be able to drink alcohol without buying a meal, and food court seating areas will reopen in shopping centres.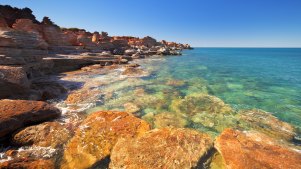 Beauty therapy, wellness and personal care services will roll up their shutters and galleries, museums, theatres, auditoriums, arcades, indoor play spaces and concert venues will reopen.
Rottnest Island, Perth Zoo, amusement parks, TABs, playgrounds, skate parks and gyms will also welcome visitors back so as long as they adhere to social distancing rules and real estate auctions will be back on the agenda.
Premier Mark McGowan called on West Australians to reactivate the state's economy by holidaying in their own state.
"Our regional communities have done it tough, our hotels, our cafes and our restaurants have done it tough," he said.
"Please, get out there, spend your money, support our local businesses, get people back to work, get our communities and our economy back up and functioning."
While Mr McGowan said WA was in an enviable position and showed signs of economic recovery it was too early to know if the state was out of the woods.
"We don't know what will happen to our international marketplaces, we don't know what will happen in the United States, China, Japan, Britain and the places we trade with," he said.
"We do know that the world economy is in trouble but tomorrow is a great opportunity for us within our borders to do far more and employ tens of thousands more people.
"Our state is beautiful by world standards, absolutely beautiful... please enjoy it."
Holidaying in other Australians states will remain out of reach, with current hard border restrictions to remain in place despite calls for a travel bubble between WA, Northern Territory, South Australia and Queensland.
On Thursday, the government also revealed the state recorded four new COVID-19 cases overnight, involving a West Australian family who had recently returned from Sudan.
The two adults and two young children are currently in quarantine at a Perth hotel.
The post about "Tens of thousands of West Australians return to work as government eases restrictions" first appeared on the WA Today website.
***
To engage in the latest trends, developments, and opportunities regarding social impact, initiatives, and job opportunities across Australia and Latin America, join our community at Social Impact Group.
Not yet a member? Get connected and be inspired by more incredible Latin American and Australian professionals. Join the growing Somos21 Community.
---
Other news