By SBS Australia
Amid the onslaught of a deadly pandemic and widespread protests against police brutality, last summer's devastating bushfire season and the push for climate action that came with it already seem like a distant memory.
Whereas 2019 was defined by images of hundreds of thousands of people marching in the School Strikes for Climate, environment protests and conferences so far this year have been cancelled due to social distancing restrictions.
And while there was some talk of the positive impact of COVID-19 lockdowns on emission levels, scientists and activists say they are concerned the momentum of the climate movement, bolstered by the bushfires and Greta Thunberg-inspired action, has been lost.
"Last summer was so extreme ... it had such a pervasive economic impact as well as a personal impact, that it was very hard for politicians not to take it on board," said Mark Howden, a vice-chair of the Intergovernmental Panel on Climate Change (IPCC) and director of the Australian National University's Climate Change Institute.
"So there was definitely a softening of some of the political rhetoric to be more accepting of climate change. But unfortunately, along comes COVID and that mood just got lost."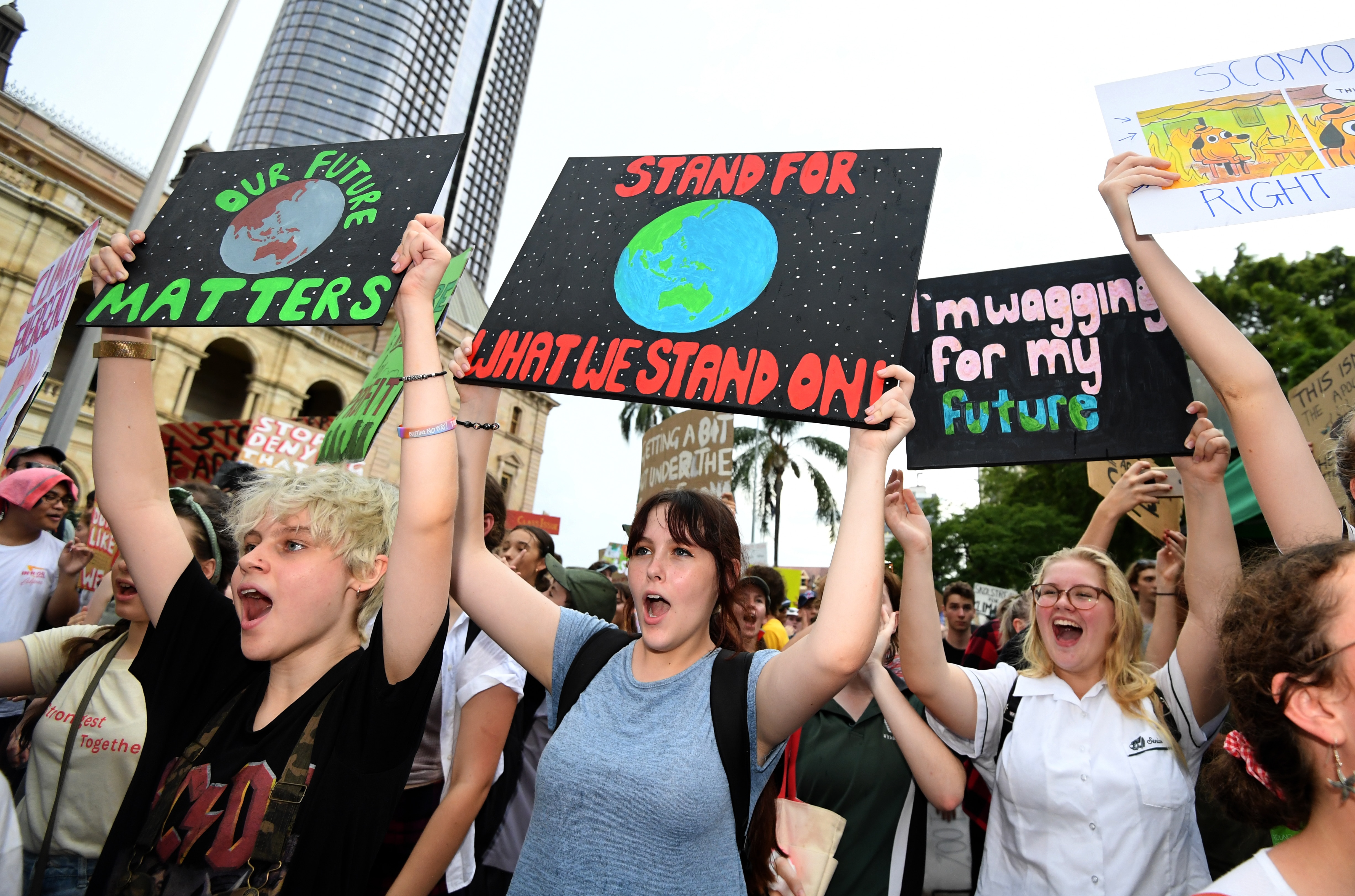 School students take part in the March climate change strike in Brisbane.
AAP
The virus has also had a practical impact on climate change action. Earlier this year it was announced a major United Nations climate conference, originally scheduled for November in Glasgow, would be postponed for a year due to COVID-19 restrictions.
Touted as the most important climate negotiations since the Paris Agreement in 2015, where governments agreed to work to limit a global rise in temperature to two degrees, some hoped the COP26 conference would see world leaders agree to ramp up their commitment.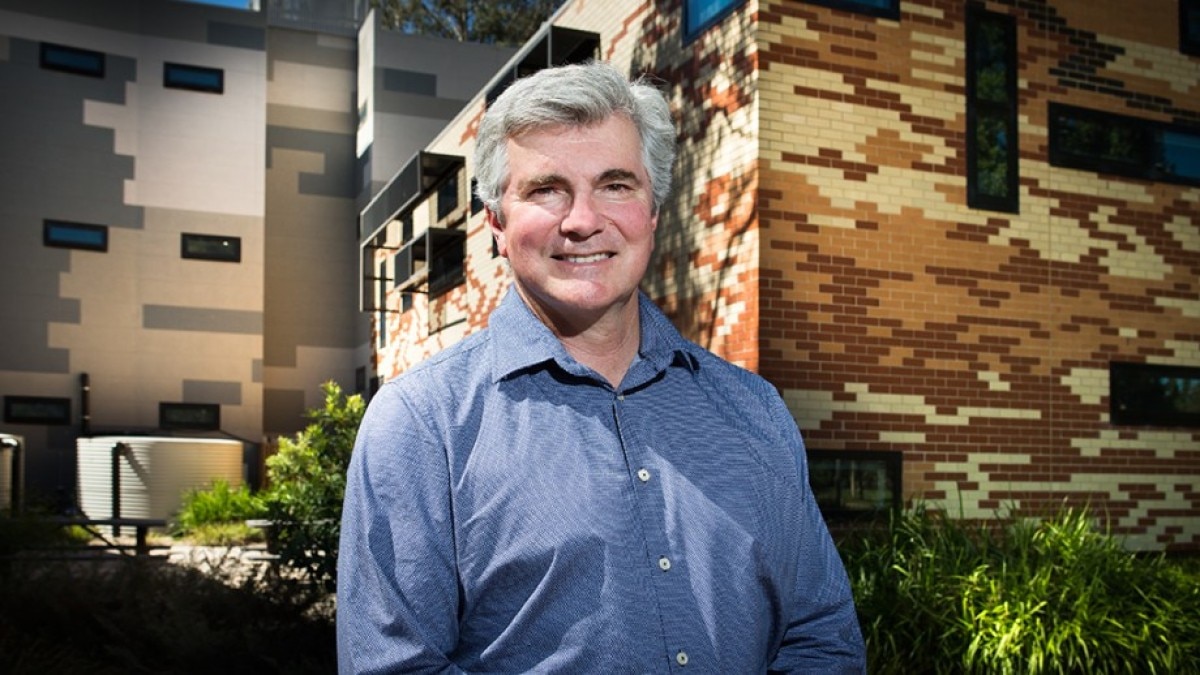 Mark Howden, director of ANU's Climate Change Insitute.
ANU
"That was really important because it brings together all governments, and in that particular meeting, there was an intention of ramping up the ambition in terms of emission reduction by governments," Professor Howden said.
"And because we've only got a relatively small number of years during which we can reduce our emissions and stay below the Paris Agreement temperature targets, every year counts. Unfortunately, the coronavirus has put us a year behind on that program."
What is Australia's current climate change policy?
The Coalition is aiming to lower emissions by 26 to 28 per cent below 2005 levels by 2030. Labor wants to see zero-net emissions by 2050 but hasn't announced a new 10-year target.
In the lead up to the federal election last year, Labor pledged to cut greenhouse gas emissions by 45 per cent on 2005 levels by 2030.
Last month, the government released its "technology investment roadmap", which it described as "practical action to reduce global emissions".
The paper identifies more than 140 low emission technologies to invest in during the short, medium and long term between now and 2050, but does not set a target on reducing emissions.
READ MORE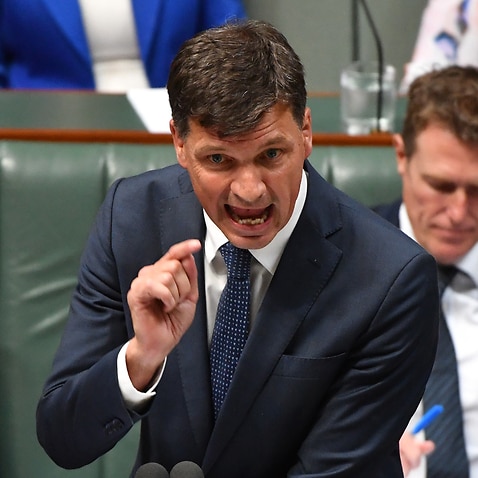 "At its core, this is about technology, not taxes. It means reducing emissions, not reducing jobs and the economy. It is an approach based on rigour, discipline and optimism, not ideology," Energy Minister Angus Taylor wrote in the introduction.
He also reiterated the government's claim that it is on track to "meet and beat" its 2030 target, despite scientists repeatedly warning a stronger commitment is needed to reach the Paris Agreement goal of zero net emissions by 2050.
"The challenge for the government is realising that it's not just technology that makes the difference, but it's also about policy settings under which those technologies can get assisted or sometimes prevented from rapid adoption," Professor Howden said.
Federal energy minister Angus Taylor during Question Time.
AAP
Labor's resources spokesperson Joel Fitzgibbon spoke out against adopting a more ambitious target on Monday as he fronted an "energy future" themed ABC Q&A panel alongside Nationals Senator Matt Canavan and Independent MP Zali Steggall.
"We've had a number of elections where the Labor Party has attempted to sell a more meaningful climate change policy to the electorate, and we've lost," he said.
"And guess how much you get to do on climate change policy if you are perpetually in opposition? Zero."
What about the student climate activists?
While the pandemic has forced students to cancel not only school but their plans for further climate strikes, student activists are using the time to think outside the box.
Off the back of last year's successful strikes, which saw hundreds of thousands of people rally across Australia, the teenage organisers were betting on an even bigger turnout for a strike planned for 15 May.
"We got all the way to the end of signing all the paperwork and everything that we needed for the location of the strike and then, as soon as it happened, we got the message that it had to be cancelled because of corona," Ella Avni, one of the organisers of the Central Coast strike, said.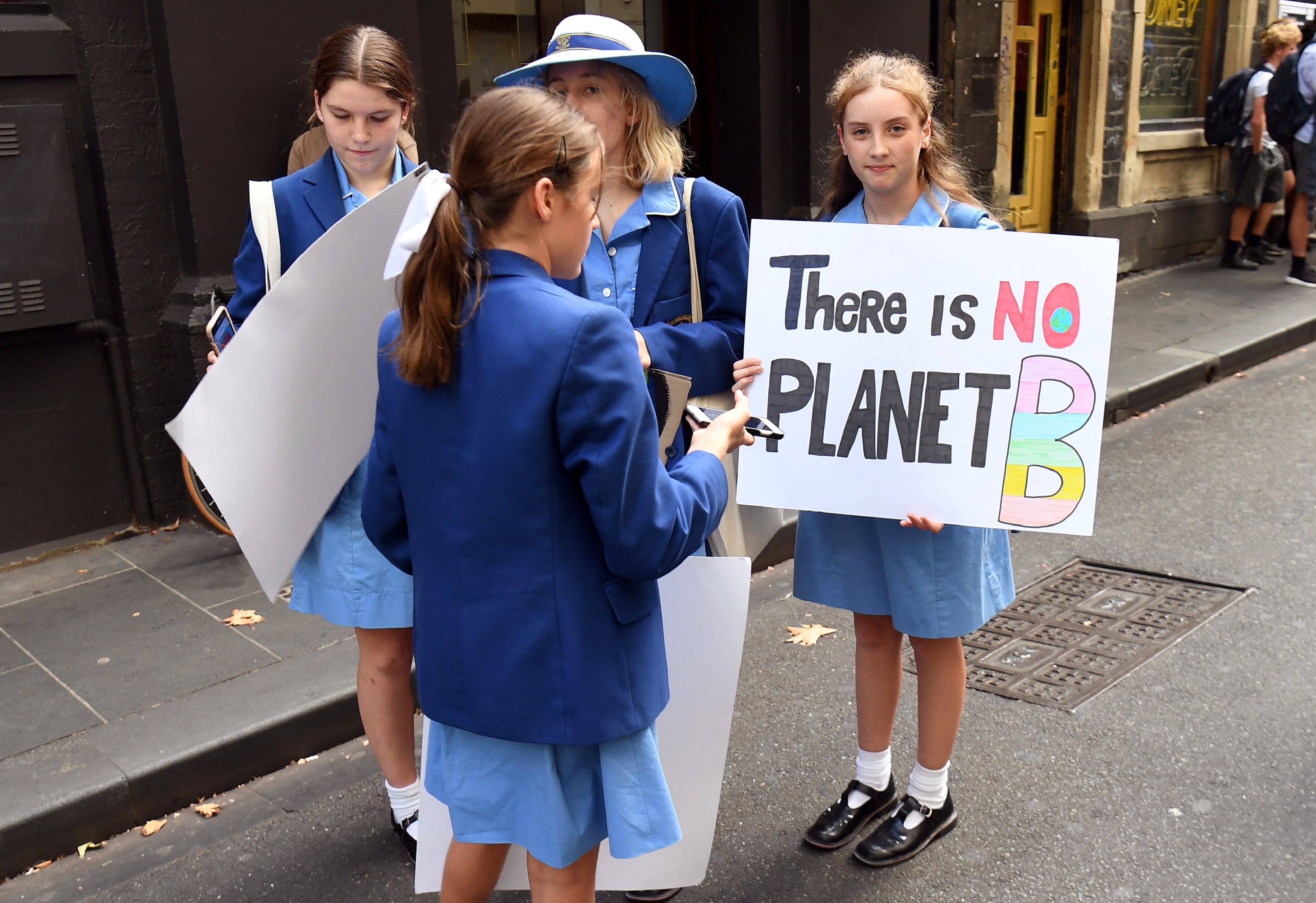 Students head to a climate protest in Melbourne in May last year.
AFP/Getty Images
Instead, activists, experts and performers came together for a national live streamed event which attracted thousands of viewers. "It was just such an amazing turnout," the 17-year-old said.
While going online opened the regional speakers up to a national audience, the organisers said it was difficult to get the media interested in covering their message without physical events.
"Even if it was online, even if it didn't get that much media attention, we still got our voices out there and really, that's all that matters in the end," Ms Avni said.
"It will definitely be amazing if restrictions are lifted so we can have our physical protests again, but 15 May definitely showed it's a possibility that we could do more live streams in the future."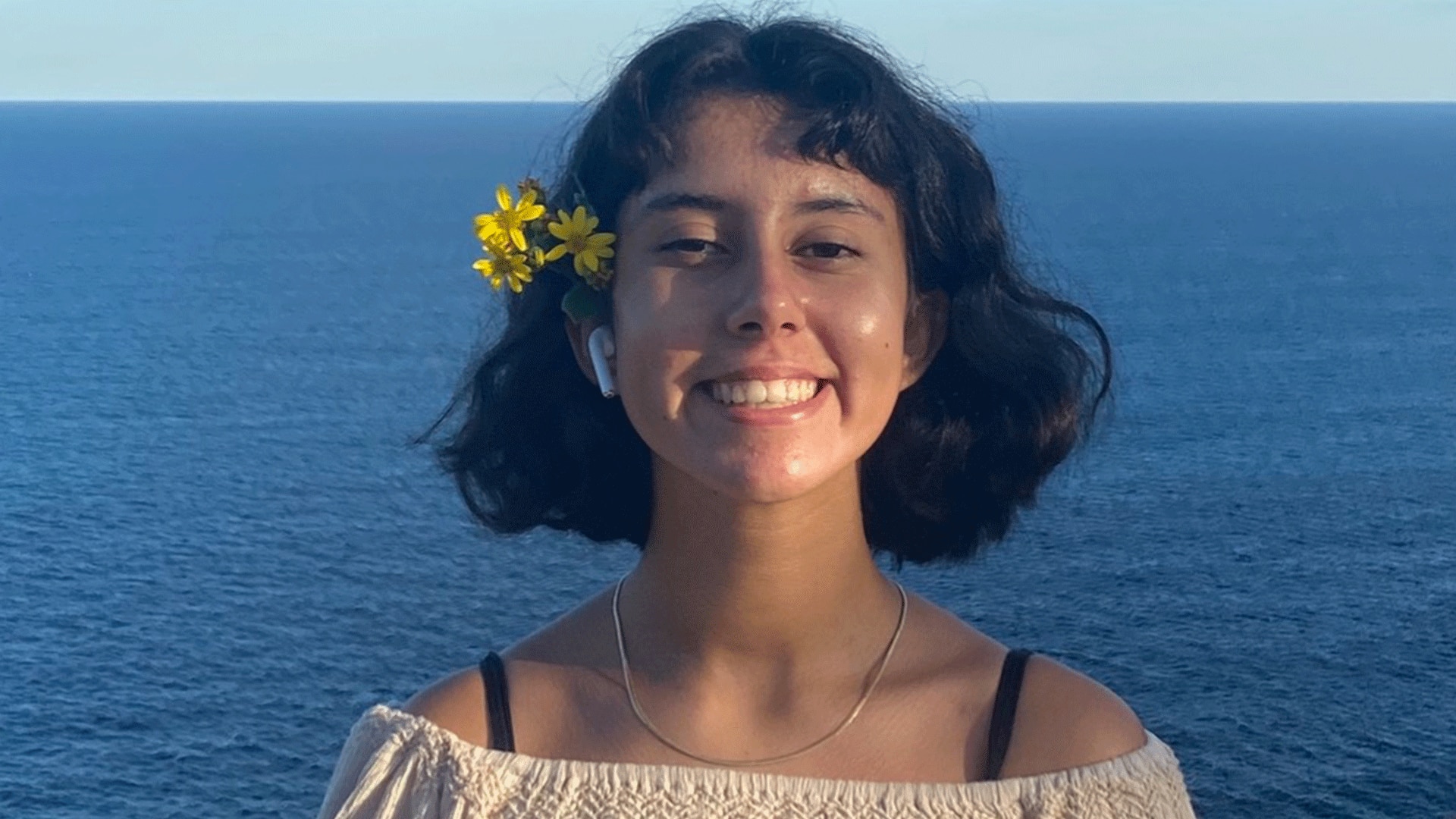 Ella Avni, 17, says the COVID-19 pandemic has forced student climate activists to get more creative.
Supplied
The United Nations' World Environment Day takes place on Friday 5 June with a series of online events taking place around the world to encourage awareness and action to protect the environment.
And on Tuesday next week, Emergency Leaders for Climate Action (ELCA) - a coalition of former senior emergency service leaders and project of the Climate Council - will host "Australia's first virtual bushfire and climate change summit". It will bring together ex-emergency and defence personnel, Indigenous experts, and climate scientists online and invite the public to participate.
"We called this summit in the midst of an unprecedented bushfire season last December, out of deep concern over the Federal Government's failure to address the bushfire and climate crisis," ELCA founder Greg Mullins said in a statement.
"Six months on, we have several inquiries underway including the Bushfire Royal Commission. Our summit complements these efforts."
"We have a lot of work ahead of us, continuing to urge the federal government to adopt a credible climate policy with a plan to phase out coal, oil and gas - the biggest drivers of climate change."
Is COVID-19 recovery an opportunity for a greener future?
Far from pushing climate action to the background, Ms Avni said she believes the COVID-19 crisis has shone a spotlight on what environmental action could achieve around the world.
Due to widespread lockdowns, travel bans and industry shutdowns, a number of cities have seen almost immediate visual improvements to their natural environment.
Venice's famously-polluted canals turned crystal clear as tourists deserted the city; people in northern India were able to sight the snow-capped Himalayas, more than 200 kilometres away, for the first time in 30 years; and air pollution above China dropped significantly.
"It just really goes to show what can happen when a nation shuts down everything, even for a few weeks or a month," she said. "It just goes to show the power that we have as people."
According to a study published in the Nature Climate Change journal last month, global carbon dioxide emissions dropped to a 14-year low during April.
But while Professor Howden said he would expect to see a greenhouse gas emission drop of five to seven per cent off what they otherwise would have been in Australia due to the lockdown, he said it will likely bounce back to the original trajectory.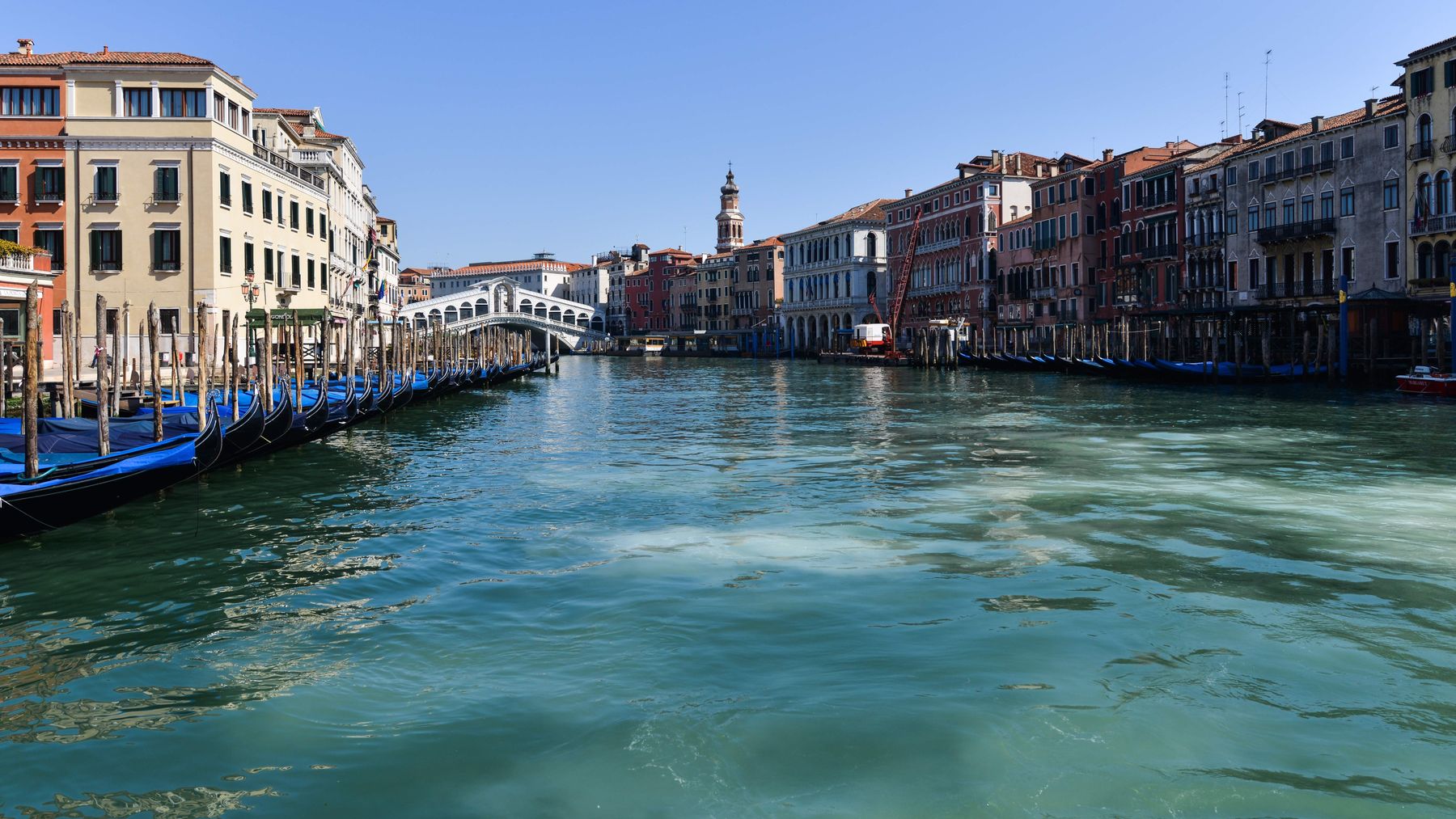 Clear waters of the Grand Canal near the Rialto Bridge in Venice.
ANDREA PATTARO/AFP via Getty Images
Instead, he's hoping the government will see the post-COVID-19 economic recovery as an opportunity to build a greener future.
"This will be a significant test of not only the resolution of the government in terms of creating a better Australia, but also in terms of whether we start to be forward-looking rather than backward-looking in the way we reconstruct following coronavirus," he said.
"We've already done away with some of the things that anchor us to our past … I think many people would say there's a good reason to look forward and use this opportunity and investment to create an Australia we really want to live in and other countries really respect."
The post about "On World Environment Day, where are we at with Australia's climate movement?" first appeared on the SBS Australia website.
***
To engage in the latest trends, developments, and opportunities in environmental awareness and protection across Australia and Latin America, join our community at Climate Change Group.
Not yet a member? Get connected and be inspired by more incredible Latin American and Australian professionals. Join the growing Somos21 Community.
---
Other news