Australia is in recession for the first time in 29 years - here's what it means for you
BY JARNI BLAKKARLY, RICARDO GONCALVES
Australia has entered its first recession in 29 years, with gross domestic product in the March quarter down 0.3 per cent.
While the exact number for the current June quarter isn't yet known, there is no mistaking that due to the coronavirus shutdown's impact on the economy it will be negative growth.
The question now is how deep the recession will be.
When asked if Australia was in recession on Wednesday, Treasurer Josh Frydenberg said: "the answer to that is 'yes', and that is on the basis of the advice I have from the treasury department about where the June quarter is expected to be".
What are the key numbers?
The key figure is the overall GDP growth, which slipped into negative territory for the first quarter period, between January and March this year.
While the negative growth was only small, at negative 0.3 per cent, that is mainly because the coronavirus shutdowns only began in mid-March so are only partially covered by the data released today.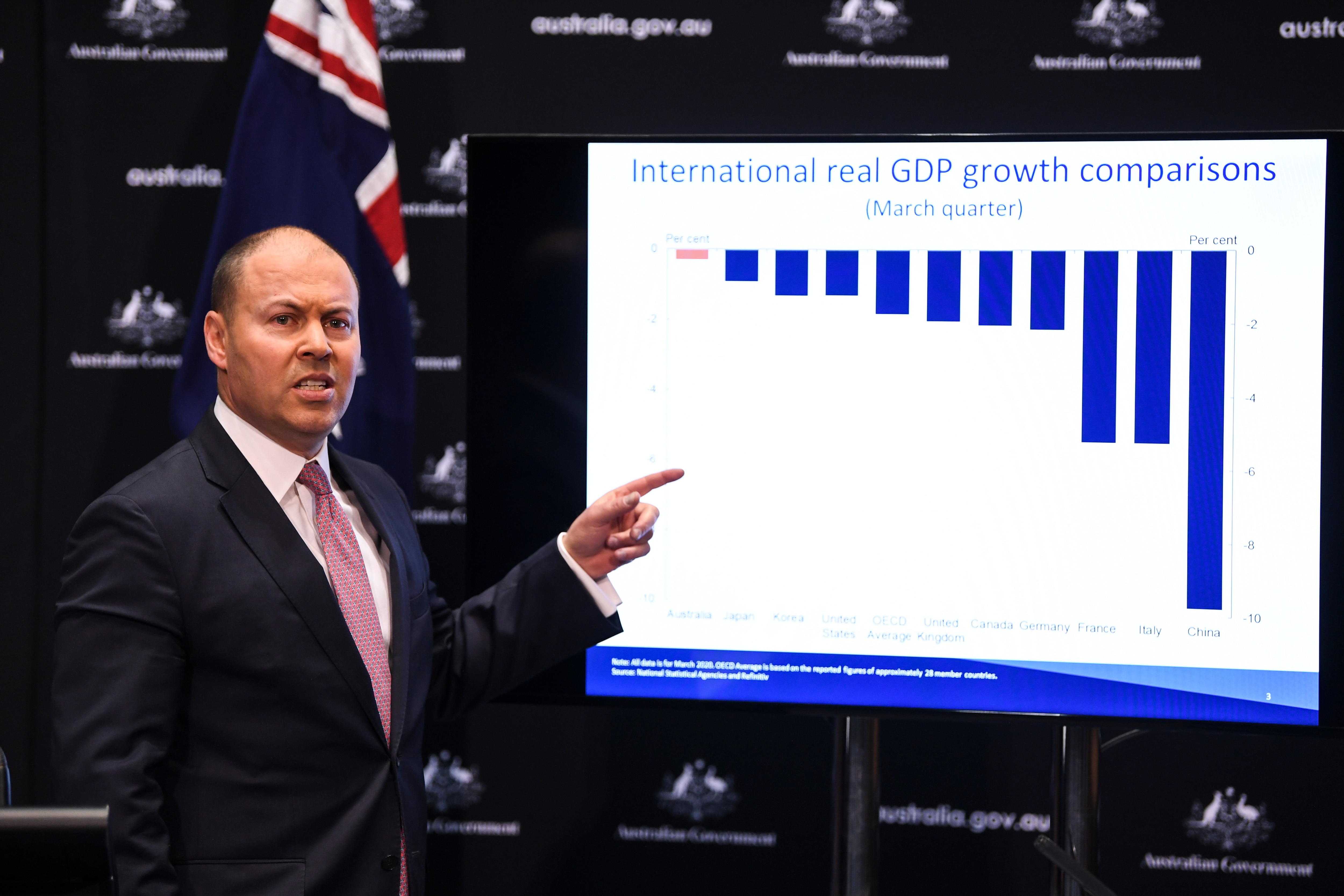 Josh Frydenberg shows international GDP growth comparisons.
AAP
All eyes are now on how bad the next quarter will be.
Scott Haslem is chief investment officer at Crestone Wealth Management in Sydney. He told SBS News the government's predictions of an up to 10 per cent negative growth may be pessimistic, but he would expect a figure closer to negative seven or eight per cent.
How is Australia faring compared to the rest of the world?
Despite its negative growth figures, Australia is actually faring relatively well compared to the rest of the world and especially compared to other developed countries.
Mr Haslem says the reason Australia's economy is the "envy of the world" is largely because it was in a strong fiscal position to begin with at the start of the pandemic.
"It's 30 years since our last recession, that obviously means we've had a good growth experience, we have a good fiscal position," he said.
"We have been able to deliver a stimulus more than more other places in the world and quite quickly. All this has led to a pretty good COVID-19 experience for Australia, led by shutting things down quickly."
Could it have been avoided?
John Hawkins is assistant professor of politics, economics and society at the University of Canberra. He said there was not much the government could have done to avoid this recession.
"There was no way to avoid it. There isn't much to be done to react in the March quarter. The government announced a big stimulus package and in hindsight could have moved a bit quicker, but I think it was inevitable, this was going to be a weak quarter for us," he said.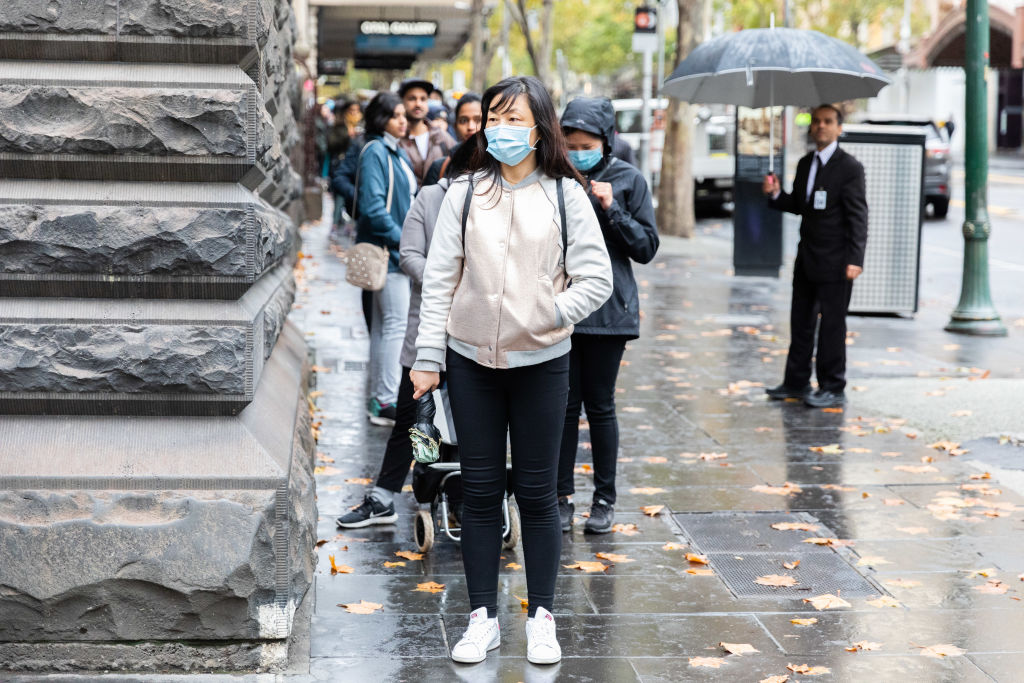 International students line up outside Melbourne Town Hall for food vouchers.
Getty Images AsiaPac
"You could have had a slightly better outcome for the March quarter by not shutting down mass gathers, but then you would have had a lot more people getting sick and had a much worse outcome in the next June and September quarters," he added.
What does the recession mean for you?
Mr Hawkins says a recession is often characterised as "when your neighbour loses their job". A depression, he says, is when you also lose your own.
"Some people will lose hours and lose their job, that's going to be the impact on many people," he said.
"Wage growth is going to be sluggish too, without competition to find people, you aren't going to see any upward pressure on wages for a long time."
Mr Haslem agrees. "Your average person knows more unemployed people in a recession," he said.
"I think it's very hard to put your finger on what the average person is feeling, some people are going to be out of work and financially stressed, other people might not notice as much that we are in a recession," he said.
How long will the recession last?
Mr Haslem said he expected the unique circumstances of this recession (a shutdown to avoid a public health emergency) meant it would not be as long lasting as other recessions.
"This is not a financial recession like we experienced in 1991 or that the world experienced in 2008 and 2009, this is just a shutdown in activity and we are already starting to see some signs of improvements in consumer spending," he said.
"So it's deep, deeper than what we have seen before, but I think we are probably going to come out of it in the back half of this year quicker than other recessions."
While Mr Hawkins said that how quickly some sections of the economy recover - such as tourism and the university sector - would also depend on how the rest of the world dealt with the virus and how soon borders could be reopened.
The post about "Australia is in recession for the first time in 29 years - here's what it means for you" first appeared on the SBS Australia website.
***
To engage in the latest trends, developments, and opportunities regarding social impact, initiatives, and job opportunities across Australia and Latin America, join our community at Social Impact Group.
Not yet a member? Get connected and be inspired by more incredible Latin American and Australian professionals. Join the growing Somos21 Community.
---
Other news