BY AARON FERNANDES
About 2,000 people gathered in Perth's CBD on Monday evening for the first of several Black Lives Matter protests planned in Australia this week.
Organisers said the protest was in solidarity with demonstrators in the United States and to acknowledge the treatment of Indigenous people in Australia.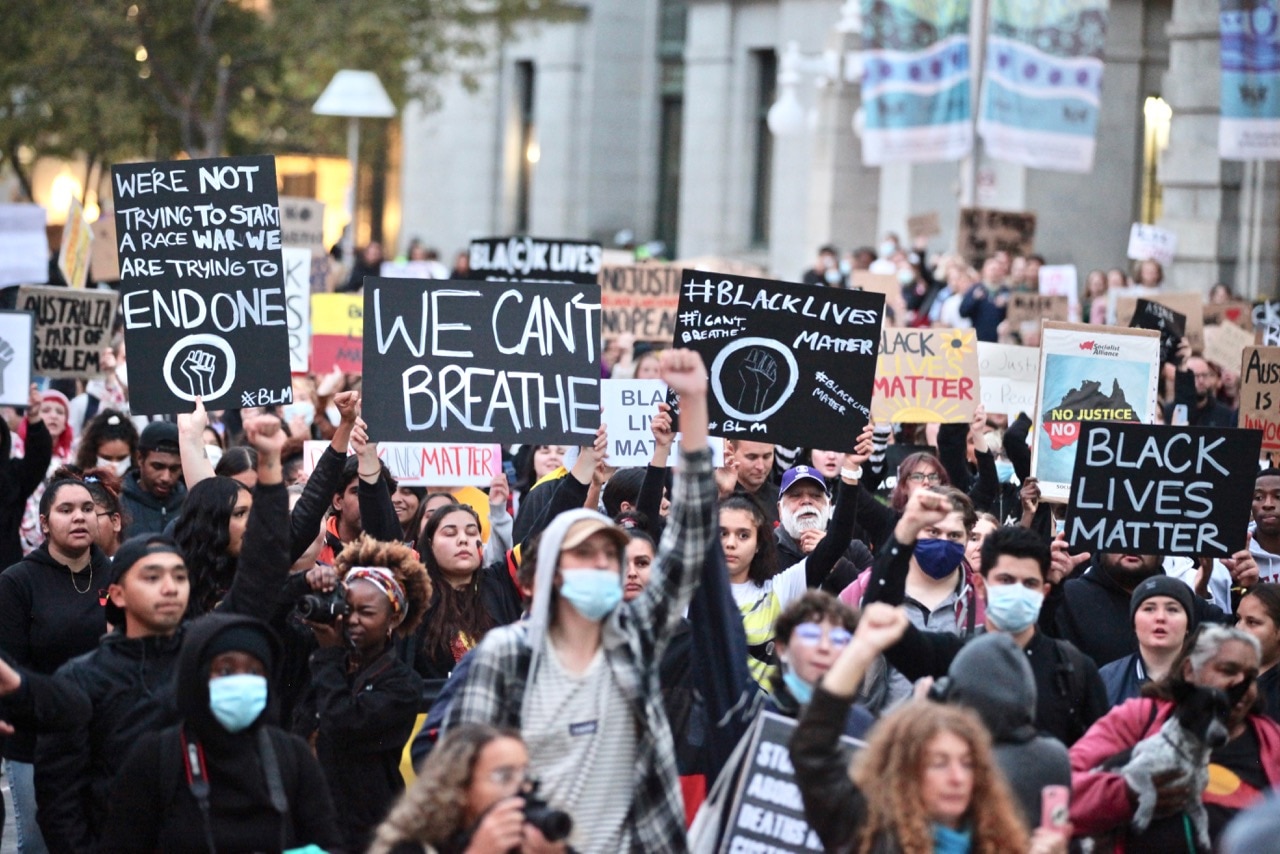 Demonstrators in Perth.
Aaron Fernandes
Crowds began filling the Forrest Chase shopping precinct from 5pm, holding placards and chanting "black lives matter" and "no justice, no peace".
Jasmine Martin, an African-American woman living in Perth for the past three years, was among the first to address the crowd.
Large crowd gathered at #GeorgeFloyd solidarity protest in Perth, Western Australia - happening now #BlackLivesMatter #deathsincustody
598 people are talking about this
"I was not expecting this. This support, it humbles me. It allows me to know that the world is waking up," she said.
"I want to thank you all for standing with us. This is history, this is Perth."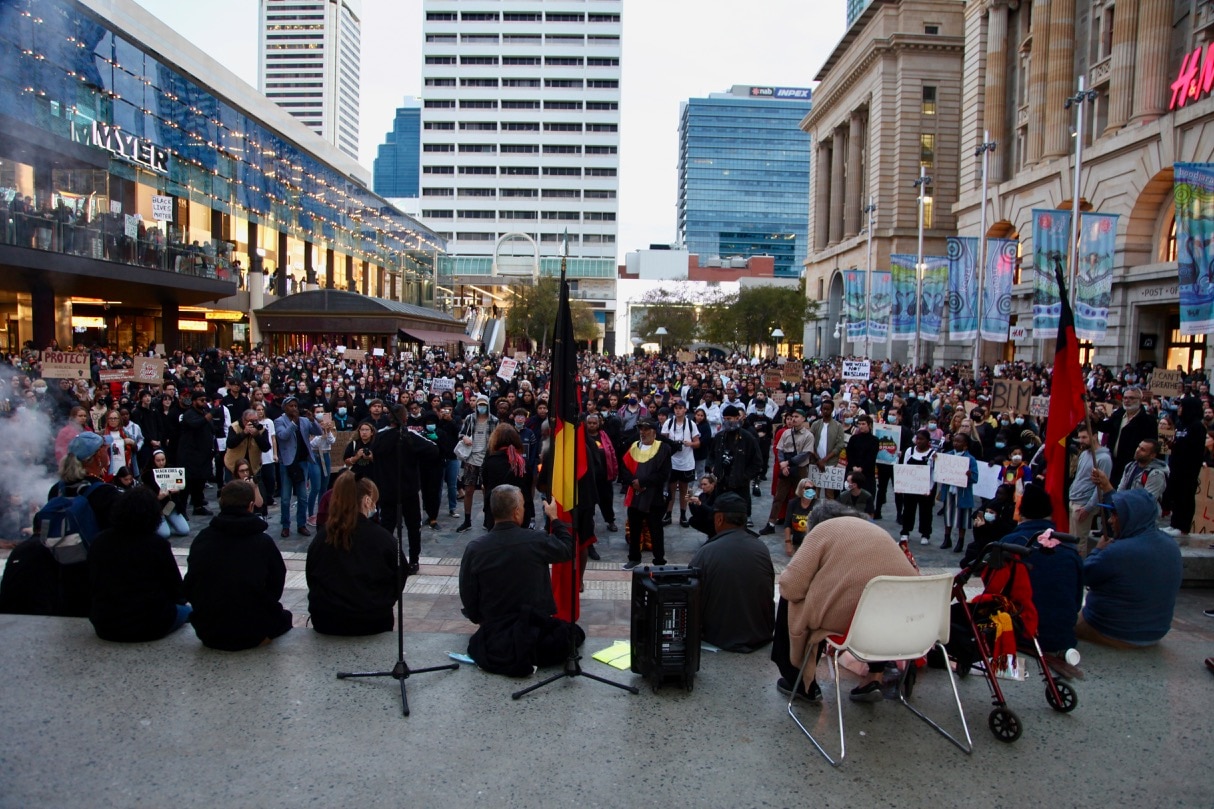 The demonstrators also drew attention to indigenous deaths in custody in Australia.
Aaron Fernandes
The protest is one of many across the world in solidarity with the Black Lives Matter movement in the US after the killing of George Floyd by police in Minneapolis.
A fire burned on the stage of the demonstration, which was lead by Aboriginal elders and activists.
"How many of our people have died like that, in this country?" Noongar elder Herbert Bropho said.
Western Australia has a long history of Aboriginal deaths in custody, including the killing of Jon Pat in 1983 by five police officers, which helped spark the Royal Commission into Deaths in Custody.
The RCDIAC made 339 recommendations to reduce the number of Indigenous Australians dying in police and prison custody, but many of those recommendations have not been implemented.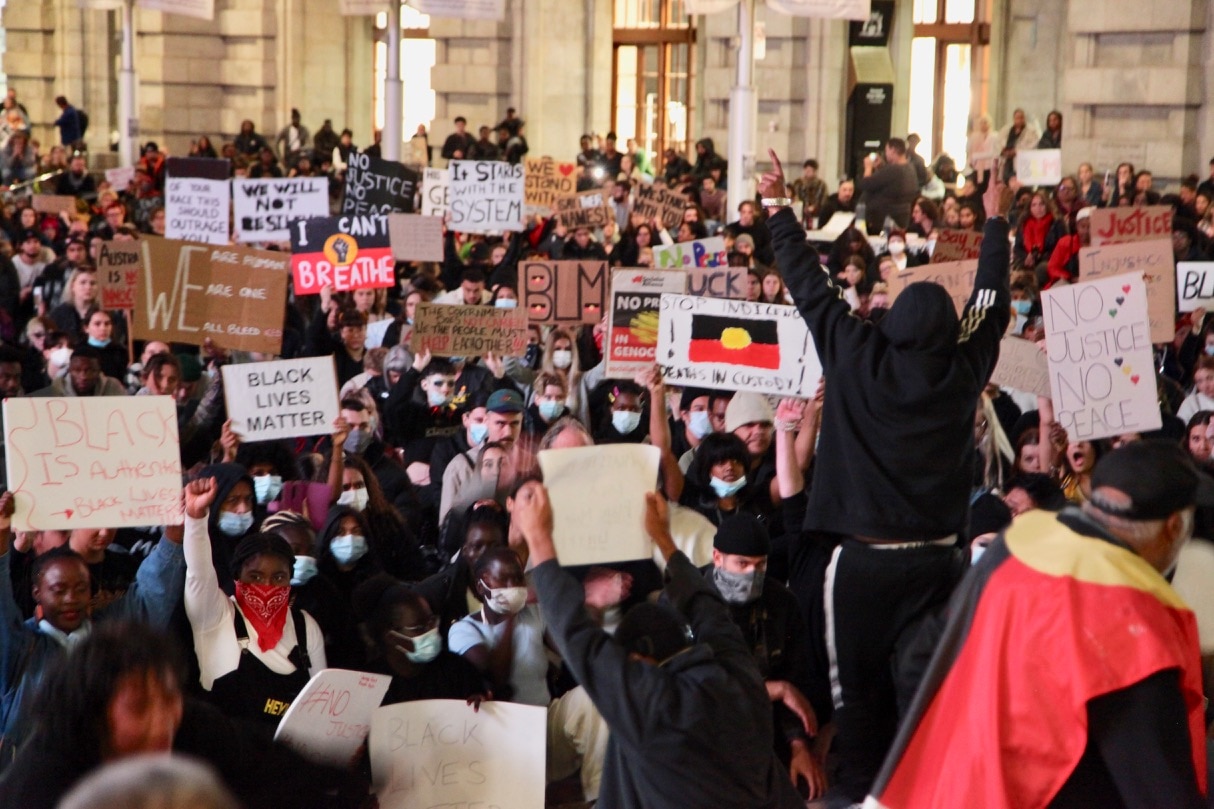 About 2000 took part in the Perth protest.
Aaron Fernandes
In 2008, Ngaanyatjarra elder Mr Ward died while being transported in the back of a prison van.
In 2014, Yamatji woman Ms Dhu died in a police lockup while serving time for unpaid fines.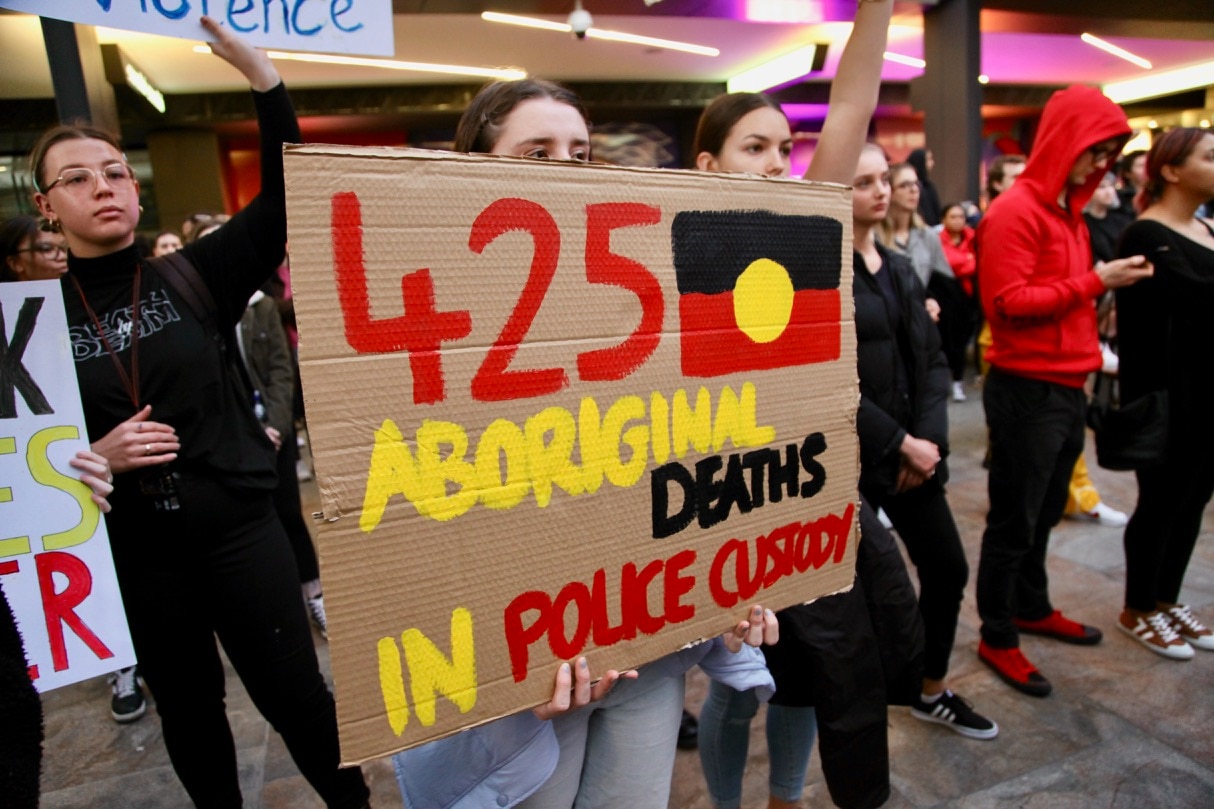 The protesters drew attention to Western Australia's history of Aboriginal deaths in custody.
Aaron Fernandes
A police officer will stand trial later this year for the fatal shooting of Yamatji woman Joyce Clarke.
"This system is broken. It's broken in America, it's broken in Australia, it's broken in Western Australia. Racism is rife here in Perth," one protester said.
"Nothing has changed."
Hundreds of supporters turned out for #BLMPerth I have attended every Blak Death in Custody rally and every Invasion Day protest for 3 years and I haven't seen crowds like tonight, EVER. #BLM
Unlike in the US where protesters have clashed with police, there was a minimal police presence at the peaceful rally in Perth.
WA Police confirmed 3 move on notices were issued at the protest.
A spokesperson said protesters were largely responsible and should be praised for their conduct.
"Prior to the protest, police engaged with organisers, working together to ensure those who attended were safe," a WAPOL spokesperson said in a statement.
The post about "The world is waking up: Perth joins global protests against police brutality" first appeared on the SBS Australia website.
***
To engage in the latest trends, developments, and opportunities regarding social impact, initiatives, and job opportunities across Australia and Latin America, join our community at Social Impact Group.
Not yet a member? Get connected and be inspired by more incredible Latin American and Australian professionals. Join the growing Somos21 Community.
---
Other news