By Alexandra Smith
Premier Gladys Berejiklian has urged people to stick to existing lockdown rules over the weekend, stressing that NSW will not rush the introduction of lifting coronavirus restrictions.
As national cabinet agreed to a three-step plan to lift the country out of the coronavirus lockdown, Prime Minister Scott Morrison said it would it be up to the states to determine their timetable.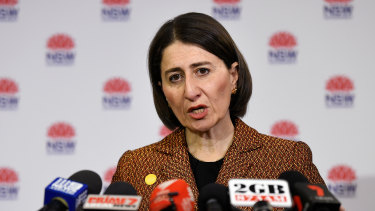 Ms Berejiklian has insisted she wants the state's economy to re-open as soon as possible but said there would be no changes immediately and NSW would not rush into easing restrictions.
"NSW will be considering the data we collected in May, to make sure that any further consideration of easing restrictions will be done in a solid way so that we continue to gain ground," Ms Berejiklian said on Friday ahead of the national cabinet meeting.
"You can't just make a decision and implement it immediately, there's 8 million people I need to consider."
Earlier in the week Ms Berejiklian moved to manage expectations and said there would be no changes in place in NSW in time for Mother's Day on Sunday, such as large family gatherings.
Prime Minister Scott Morrison has outlined a rough three-stage plan to lifting coronavirus restrictions in Australia.
She urged against people being complacent over the weekend.
"With Mother's Day and another weekend coming along, we know there will be more visitations to peoples' houses and we ask people to do that safely, especially if you're visiting an older and vulnerable person," she said.
"Please consider how you might conduct that visit to keep everybody safe."
She said one of the first important steps is the return of schools, which will start increasing face-to-face teaching from Monday.
The post about "NSW will not race to lift restrictions as national cabinet releases plan" appeared first on the Sydney Morning Herald website.
***
To engage in helping and supporting our Latin American community impacted by the COVID-19 outbreak, seek or share information, events, news, forums, and critical connection and collaboration opportunities during this time of mass isolation, join our community at COVID-19 Support Group.
Not yet a member? Get connected and be inspired by more incredible Latin American and Australian professionals. Join the growing Somos21 Community.
---
Other news