By Nick Bonyhady and Angus Thompson
Council workers across NSW will be entitled to a higher rate of pay than those on the federal government's JobKeeper wage subsidy if they are stood down as part of a deal approved by the state's Industrial Relations Commission.
The state's councils overwhelmingly backed the deal, which is the first large-scale pay and conditions renegotiation during the coronavirus crisis to give workers guaranteed pay even if they have been stood down without work.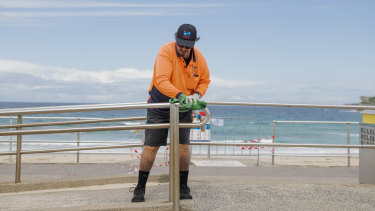 Many council-run swimming pools, libraries and playgrounds are closed across the state because of social distancing measures. But local councils cannot access JobKeeper payments for their staff because the federal government considers them a state responsibility.
Normally council employees' pay and conditions are set under an industrial award that changes little from year to year and gives workers no pay if they are stood down.
As part of a deal approved by 100 of the state's 128 councils, they will have greater flexibility to redeploy workers to different locations and roles and reduce their hours where the pandemic has made employees' usual tasks impossible.
Full-time workers who are stood down entirely will be paid $858.20 a week for three months after an initial period of four weeks' paid special leave. Casuals cannot access the stand-down payments.
The payment is substantially more than the $750 a week most idled private sector employees are entitled to receive for six months under the JobKeeper scheme.
As part of an arrangement called a "splinter award", councils that opted into the deal will be covered by it while the remaining 28 will stay on regular arrangements.
The decision will apply retrospectively from April 8 and stay in force for one year. Unlike JobKeeper, it is paid on a pro-rata basis and tailored to those with different working hours.
NSW Greens local government spokesman David Shoebridge said the award provided a "living wage" and was a model for nationwide agreements between unions and employers in industries not covered by JobKeeper.
Australian Services Union national secretary Robert Potter said there needed to be a national safety net for council employees. Victoria does not have its own state industrial relations system, leaving council workers there dependent on the national award, which has not been changed in response to the pandemic.
Several major Sydney councils on Tuesday confirmed they were opting into the award, with Inner West Council mayor Darcy Byrne saying there was "no excuse" for councils using the crisis to sack long-term employees.
"We aim to maintain existing staff levels throughout the downturn," Cr Byrne said.
Ryde mayor Jerome Laxale said his council would sign on to the pay scheme, saying the council wanted to "keep as many staff as possible".
Coronavirus: Unemployment hits 10 percent
The reality of Australia's coronavirus economic crisis is hitting home, with Treasury figures pointing to 10 percent unemployment.
A spokeswoman for Waverley Council said the splinter award would help the council preserve jobs by providing suitable alternative duties to employees unable to perform their regular tasks.
Local Government NSW president Linda Scott said the number of councils signing on indicated "an incredible show of support and unity for the local government sector".
Northern Beaches independent councillor Vincent De Luca put forward an alternative course of action to the scheme that involved slashing non-essential capital works.
The post about "Idled staff at 100 NSW councils to get more than JobKeeper" appeared first on the Sydney Morning Herald website.
***
To engage in helping and supporting our Latin American community impacted by the COVID-19 outbreak, seek or share information, events, news, forums, and critical connection and collaboration opportunities during this time of mass isolation, join our community at COVID-19 Support Group.
Not yet a member? Get connected and be inspired by more incredible Latin American and Australian professionals. Join the growing Somos21 Community.
---
Other news