Olivia Humphrey's global streaming empire Kanopy started in 2008 with a bold idea, a spare room at the front of her house and a copy of Starting a Business For Dummies borrowed from Scarborough library.
And despite its old-fashioned mining-focused investment culture and a lack of government support she thinks WA is primed for its next rags-to-riches startup success story.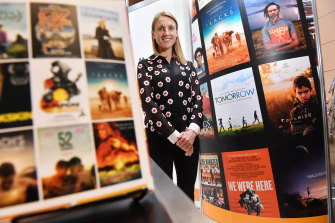 Kanopy founder Olivia Humphrey returned to Perth early this year.CREDIT:JOE ARMAO
Kanopy is known as the art-house and indie Netflix, where users stream the video libraries of universities and public libraries they are members of for free.
After the company moved to the US in 2013, it has since partnered with thousands of universities and public libraries across the world and has more than 30,000 titles on its app.
But a combination of homesickness and the desire to raise her son in Australia saw Ms. Humphrey step down as chief executive in 2018, sell the company to a private equity firm and return to Perth in January.
Her return has thrilled WA's startup scene, which has been battling a lack of interest and investment for more than a decade.
Several people WAtoday interviewed for this series were excited Perth finally had its own tech success story return to the city, hoping this would embolden the next generation of entrepreneurs in the same way famous iron ore families such as the Forrests and Hancocks have done for mining.
***
To engage in the latest trends, developments and opportunities in advertising, architecture, sports, art, fashion, film, music, and all forms of creative ideas across Australia and Latin America, join our community at Creative Industries Group.
https://somos21.org/topics/14947/feed
Not yet a member? Get connected and be inspired by more incredible Latin American and Australian professionals. Join the growing Somos21 Community.
https://somos21.org/signup
The post about "WA's stream queen returns home to inspire next cohort of startups" appeared first on the WA Today website.
https://www.watoday.com.au/business/small-business/wa-s-stream-queen-returns-home-to-inspire-next-cohort-of-startups-20200307-p547sy.html